Finding Forrester ***½ (2001, Sean Connery, Rob Brown, F Murray Abraham, Anna Paquin) – Classic Movie Review 1518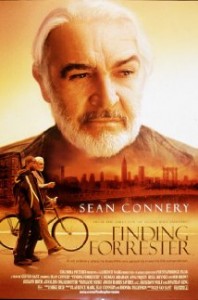 Want to see Sean Connery spouting literature and cycling along the streets of New York? Director Gus Van Sant's 2001 drama is the film for you!
The 70-year-old Connery brings on his prose, his pushbike and his famous twinkle as reclusive writer William Forrester, who emerges from his hermit-like existence to befriend a gifted student and basketball player (Rob Brown) –– and they both save each other.
It's perhaps hard to believe a word of this feel-good mix of Dead Poets Society and Van Sant's Good Will Hunting (1997), but it is still humorous, entertaining and touching.
Connery is of course now a revered national monument – and here you can see exactly why. The admirable Brown doesn't let him have all the film to himself though.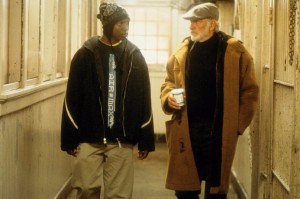 F Murray Abraham, Anna Paquin, Busta Rhymes, April Grace, Michael Pitt and Michael Nouri are also in the cast. Mike Rich is the writer of the appropriately literate screenplay.
Up to 2014, Connery has starred in only one more movie, The League of Extraordinary Gentlemen, in 2003. Then he quietly retired, apart from his vocal turn in 2012's Sir Billi.
http://derekwinnert.com/good-will-hunting-classic-film-review-156/
http://derekwinnert.com/the-league-of-extraordinary-gentlemen-2003-sean-connery-classic-film-review-1082/
© Derek Winnert 2014 Classic Movie Review 1518
Check out more reviews on http://derekwinnert.com/