Final Destination 2 *** (2003, Ali Larter, A J Cook, Tony Todd, Michael Landes) – Classic Movie Review 3992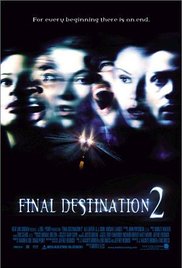 And here is director David R Ellis's expected 2003 sequel to the hit 2000 teen chiller, Final Destination, which took $53 million at the US box office.
Death again stalks another bunch of scared young folk in this grisly but expertly staged sequel. This time it's a girl, Kimberly Corman (A J Cook), who has the premonition that saves people's lives, until the survivors again start to die one by one. An uncomfortable Ali Larter returns from part one as Clear Rivers, the heroine who has locked herself up in a mental hospital to try to evade the arrival of inevitable Death, and the movie's a reasonable thrill ride of great stunts and shocks.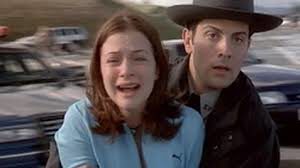 Final Destination 2 is highlighted by one or two absolutely brilliantly staged sequences, especially the bravura opening car crash and a The Birds-like attack on a kid (James N Kirk) going to the dentist. The movie is directed by a stuntman, so you just know the stunts are going to be top rate. However, perhaps they should have got someone else to direct the actors, who seem uneasy and uninspired, and maybe one or two of them could profitably have been recast.
Also in the cast are Michael Landes, David Paetkan, Lynda Boyd, Keegan Connor Tracy, T C Carson, Justina Machado, Tony Todd, Sarah Carter, Alex Rae, Andrew Airlie, Eileem Pedde, Jill Krop, Don Bell, Odessa Munroe, Benita Ha, Aaron Douglas and Fred Henderson.
This one did nearly as well as the original, taking $46 million at the US box office. Three more sequels followed: Final Destination 3 (2006), The Final Destination (2009) and Final Destination 5 (2011).
© Derek Winnert 2016 Classic Movie Review 3992
Check out more reviews on http://derekwinnert.com