Final Analysis ** (1992, Richard Gere, Kim Basinger, Uma Thurman, Eric Roberts, Paul Guilfoyle, Keith David, Harris Yulin) – Classic Movie Review 4391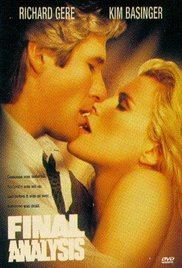 In director Phil Joanou's 1992 thriller, Richard Gere stars as Dr Isaac Barr, a psychiatrist who falls for Heather Evans (Kim Basinger), the sister of his patient, Diana Baylor (Uma Thurman). Basinger is married to a Greek mobster by the not very Greek name of Jimmy Evans (Eric Roberts), and all three members of the family seem dangerously unhinged.
Final Analysis is desperate to thrill mystery hokum from screenwriter Wesley Strick, the writer of Cape Fear (1991), penning a screenplay that simultaneously sends up the genre (particularly Vertigo) while apparently taking it seriously. This should be more smart and sophisticated than it is, but the main trouble is that there is a real problem with a heavily plodding pace and extraordinary length at 124 minutes.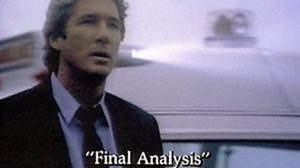 Gere is bland and passive as the hero when he needs to be a man of action, the women are attractive but not very persuasive and Roberts overplays his hand something rotten. You could file it along with Dead Again and Shattered in the drawer of 'should have been rejected' thriller scripts from the era, but it is nowhere near as poor as either of those.
Also in the cast are Paul Guilfoyle, Keith David as Detective Huggins, Harris Yulin, Robert Harper, George Murdock, Tony Genaro, Shirley Prestia, Rita Zohar and Agustin Rodriguez.
Gere and Basinger did much better together in No Mercy (1986).
© Derek Winnert 2016 Classic Movie Review 4391
Check out more reviews on http://derekwinnert.com