Filth * (2013, James McAvoy, Jamie Bell, Eddie Marsan, Shauna Macdonald, John Sessions, Imogen Poots, Gary Lewis) – Movie Review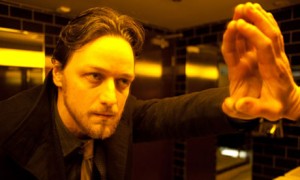 There's never a dull moment, but Filth is a dismaying and dispiriting experience. This is one heck of a scary movie, but in the wrong way.
Two of my favourite actors James McAvoy and Jamie Bell are miscast and hopelessly out of their depth as bent Edinburgh cops in writer-director Jon S Baird's no-holds-barred 2013 film of the novel by Irvine Welsh (Trainspotting).
Who cares about Bruce Robertson, the bigoted, bipolar and corrupt junkie policeman character McAvoy plays, when he's such an irredeemable piece of work?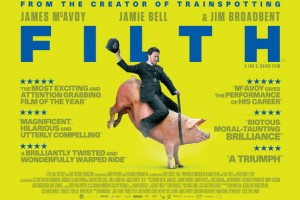 It's Christmas, and Bruce needs to solve a murder, secure a promotion and win back his sultry wife Carole (Shauna Macdonald) and daughter. He has got a bunch of scheming colleagues up against him, especially Bell's Ray Lennox. But he plots to turn them against each other by making off with their wives and exposing their secrets. In particular, Bruce gleefully and truly unpleasantly manipulates his supposed friend and fellow Freeman, Bladesey (Eddie Marsan).
But it's all coming to nothing because Bruce is losing his mind…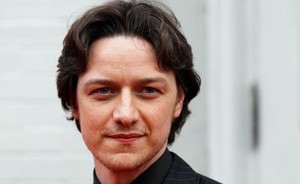 He's ill? He's having a breakdown? Good. Go and do it somewhere quietly on your own, dear, where it won't upset anyone else.
I felt queasy, borderline sick as I left the cinema. It's a really nasty, homophobic, bad-karma piece of work. And, with its passé Nineties sensibilities, it felt badly dated too.
The stalwart cast is up for it but they are all thrown away. John Sessions is particularly annoying as Chief Inspector Toal.
Also in the cast are Imogen Poots, Gary Lewis, Jim Broadbent, Joanne Froggatt, Kate Dickie, Martin Compston, Iain De Caestecker, Brian McCardie, Emun Elliott and Shirley Henderson.
© Derek Winnert 2013 Movie Review
Check out more reviews on http://derekwinnert.com