Figures in a Landscape ** (1970, Robert Shaw, Malcolm McDowell, Henry Woolf, Christopher Malcolm, Pamela Brown) – Classic Movie Review 4245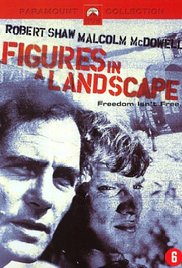 Figures in a Landscape is an ambitious, arty 1970 film from distinguished producer-director Joseph Losey about two men, MacConnachie and Ansell (Robert Shaw and Malcolm McDowell), being chased through open spaces in an unspecified country by two men (Henry Woolf, Christopher Malcolm) and their menacing black helicopter.
Nothing is explained in the impenetrably dense, allegorical story, as the victims are on the run in an inexplicable Franz Kafka kind of way, threatened by an unfathomable nightmarish menace. So the only real tension or excitement comes from the performances of the two star actors and the imagination of the director. All three do well under their self-imposed restraints.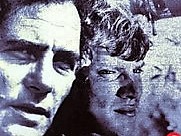 Shaw himself wrote the Harold Pinter-style screenplay taken from Barry England's novel. But the result is not very gripping or fascinating. And, actually, it would have been much better movie as a straightforward thriller. However, though not a satisfying experience, this well-made, handsome-looking, nicely shot (by Henri Alekan) film still remains in the interesting curio category. As star, Shaw does a grand job to keep you involved.
Also in the cast are Henry Woolf, Christopher Malcolm, Pamela Brown, Andrew Bradford, Roger Lloyd Pack, Warwick Sims, Robert East and Tariq Younus.
Richard Rodney Bennett's score was Bafta nominated.
Shaw, who was also a novelist, agreed to rewrite the troubled screenplay just before shooting was due to begin, telling Losey it would be ready before shooting. However, with changes being made daily, it was not finished till the end of filming. The film flopped and was released in Britain in a much-cut version, though rescued by the BFI and screened in the full version that usually also screens on TV now.
The meticulous director Losey, who replaced Peter Medak, took four months to shoot it.
© Derek Winnert 2016 Classic Movie Review 4245
Check out more reviews on http://derekwinnert