Fighting Mad *** (1976, Peter Fonda, Lynn Lowry, John Doucette, Philip Carey, Scott Glenn) – Classic Movie Review 5363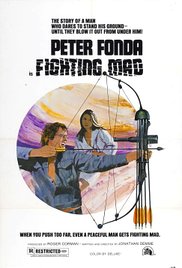 Writer-director Jonathan Demme's third movie (after 1974's Caged Heat and 1975's Crazy Mama) is this exciting and effective 1976 Roger Corman-produced cheapie ($600,000) exploitation crime action thriller. Happily, Demme's expertly handled vengeance movie now enjoys status as a Seventies cult movie.
Peter Fonda stars as Tom Hunter, an Arkansas farmer taking the law into his own hands when a land developer mining boss uses murder as part of his tactics to make families sell their land and farms for real estate developments. Philip Carey is excellent as the arrogant fat cat bad guy, Pierce Crabtree. John Doucette plays Hunter's dad Jeff and Gino Franco plays Hunter's son Dylan.
A bizarre Seventies mixture of being green and vigilante at the same time, the movie is very capably, though of course cynically made by director Demme, who keeps one eye on his characters and plot, and the other on staging the exciting violence for the box office.
Also in the cast are Lynn Lowry as Lorene Maddox, Scott Glenn as Charlie Hunter, Kathleen Miller as Carolee Hunter, Harry Northup as Sheriff Len Skerritt, Ted Markland as Hal Fraser and Noble Willingham as Senator Hingle.
It is R rated in the US and back in the day it had a UK X certificate.
© Derek Winnert 2016 Classic Movie Review 5363
Check out more reviews on http://derekwinnert.com