Fat City **** (1972, Stacy Keach, Jeff Bridges, Susan Tyrrell) – Classic Movie Review 4145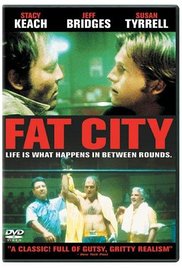 Director John Huston's honest and touching 1972 story of loneliness and failure is written by Leonard Gardner and based on his 1970 novel. It provides ideal roles for Stacy Keach and Jeff Bridges, in their excellent prime. But, surprisingly of the three stars, it was Susan Tyrrell who was Oscar nominated – as Best Supporting Actress. Surprisingly also, as Huston had once been a boxer himself, it is the only movie about boxing he directed.
It just happens to have a boxing background as it probes in depth the lives and problems of two professional fighters, a has-been called Tully (Stacy Keach) in the decline of his career and a young wannabe named Ernie (Jeff Bridges) just beginning his ascent in the sport, and an alcoholic, Oma (Susan Tyrrell). The two men come to blows as their careers begin to take opposite directions.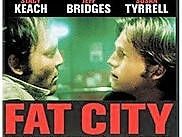 There are punchy performances from all three stars, plus Candy Clark in her film debut as Faye and Nicholas Colasanto as Ruben. But the film is mainly Huston's triumph, and he shows a surprisingly compassionate, sensitive side to his bluff, macho nature.
Based solidly on Gardner's script from his own novel, Fat City is nevertheless an obvious turn-off at the box-office, but it is a knockout film anyway, and scored some success on the art film circuit, and is now something of a cult film.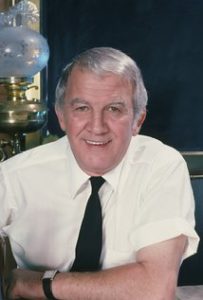 It is notable as providing a rare film role for Colasanto, the much-loved, and lamented dim barman Coach in Cheers.
Also in the cast are Art Aragon, Curtis Cokes, Sixto Rodriguez, Billy Walker, Wayne Mahan and Ruben Navarro.
Huston wanted Marlon Brando to play Tully but he kept stalling so the director cast the less known Keach. Huston wanted Beau Bridges to play Ernie but the actor felt he was too old and recommended own brother.
Keach says Rodriguez knocked him out in their fight scene and that shot appears in the film.
© Derek Winnert 2016 Classic Movie Review 4145
Check out more reviews onhttp://derekwinnert