Fast & Furious 6 **** (Vin Diesel, Paul Walker, Dwayne Johnson, Michelle Rodriguez, Luke Evans) – Movie Review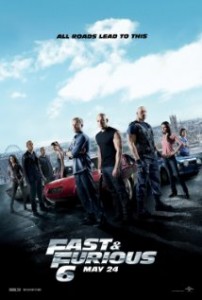 Fast & Furious 6 goes into overdrive to please, and please it does, a whole lot actually. It races along for two hours and ten minutes, keeping in the fast lane throughout, never once pulling over for a pit stop. Delivering that amount of screen entertainment without it once getting boring is quite a little feat of cinema magic, and it's great to report that they do.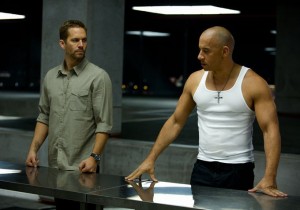 You could complain about the use of CGI, indeed the over-reliance on it, in a series that was all about car stunts, but then most of what we see here wouldn't be possible in the real world, so you have to bow to the inevitability of it. Reality left far behind, it does slightly damage the film's credibility though, even if credibility isn't really the point. Fantasy escapism is now the name of the game, and here we have it to the max.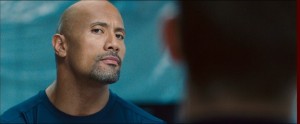 Dwayne Johnson's Agent Hobbs gets Dom (Vin Diesel) and Bri (Paul Walker) to assemble their elite team in London to take down a Brit gang boss (Luke Evans) in exchange for a full pardon. Letty (Michelle Rodriguez), the love Dom thought dead, is now Evans's ruthless sidekick. Has she lost her mind? Well, yes she has. Dom and Letty race each other in Whitehall! Is London ready for this?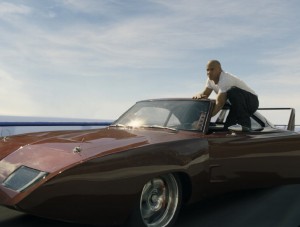 Vin, Paul and Dwayne are looking quite a bit older than you remember them, but they've still got the stuff. Dwayne's muscled in nicely on Vin and Paul's franchise, propping it up brilliantly. Don't you just love Dwayne? He's Arnie's heir to the king action star de nos jours, with the same kind of muscles, cheesy grin and easy way with a quip and an action scene as Arnie had in his heyday. Nice, Dwayne!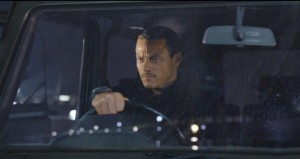 Brit star Luke Evans has a field day with his villain role, making a very impressive job of it, menacing, snarling and growling for the United Kingdom. Oh, a Brit villain again? What a surprise! Nice work if you can get it though.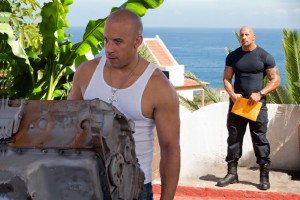 Why they've brought such an American franchise to the UK is anybody's guess, but I hope the country's getting useful tax dollars from the movie's profits. Lord knows we need it now, so thank you Vin, Paul and Dwayne for coming over and gracing us with your lovely presences. It is weird to see the F & F show filming at Lambeth Bridge though.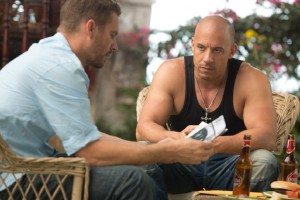 Brain in neutral, non-stop action in top gear, F & F 6 is as mad as a box of monkeys and a hundred times more fun. Thank God for fast cars! Definitely go see F & F 6 and, with the next sequel carefully set up at the end (and with a new British villain!), expect Number 7 sometime soon at a cinema near you. This franchise has wheels ­ it just runs and runs.
Tragically, Walker died aged 40 in a single-car accident on November 30 2013 alongside friend Roger Rodas. His last fully completed film is Brick Mansions, though he had done much filming on F & F 7.
Furious Seven [Fast & Furious 7] was finally released on 3 April 2015.
http://derekwinnert.com/the-fast-and-the-furious-classic-film-review-311/
© Derek Winnert 2013 Movie Review 2848
Check out more reviews on http://derekwinnert.com