Farinelli ****½ (1994, Stefano Dionisi, Enrico Lo Verso, Elsa Zylberstein, Jeroen Krabbé) – Classic Movie Review 221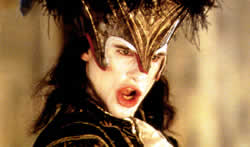 Serious music lovers will be in heaven with this incredibly sumptuous, extraordinarily moving and beautifully produced 1994 costume drama biopic about the castrato Farinelli, aka Carlo Broschi (played by Stefano Dionisi), the 18th century's most celebrated singer. It's another musical masterwork from Belgian director Gérard Corbiau, who made The Music Teacher (1988), also about an opera singer.
It's a meticulous treat in every way. There's a marvellous, perfectly crafted original screenplay by Andrée Corbiau and Gérard Corbiau, superb cinematography by Walther Vanden Ende, a brilliant score by musical director Christopher Rousset, glorious set designs by Gianni Quaranta and fantastic costumes by Olga Berluti.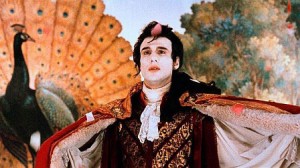 Brilliant thought the movie is, in some senses it's of course just the music the counts for most. Rousset's made a great job of it. Farinelli's distinctive singing voice was magically re-created for the soundtrack by digitally combining the male and female voices of a counter-tenor and a mezzo-soprano: British counter-tenor Derek Lee Ragin and Polish mezzo-soprano Ewa Maas-Godlewska.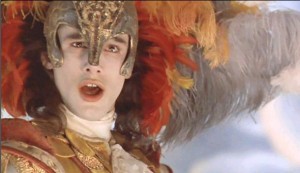 The film opens in 1740 in Madrid where Farinelli decides to stay on at King Philip of Spain's court and sing exclusively for him. Three years ago he ended his dazzling career and fled his mediocre brother, Riccardo (played by Enrico Lo Verso), his partner and manager till then.
In Naples, 18 years earlier, Farinelli enters a contest and shows off his exquisite voice, launching his career. Farinelli was castrated at ten and his perfect singing's his sole reason to live. Thrilled by his voice, Riccardo composes for him.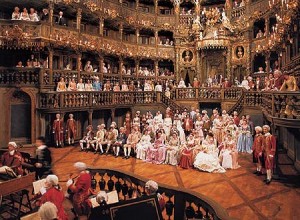 A star is born that day in Naples and Georg Friedrich Handel (Jeroen Krabbé), official composer of the court of England, hears Farinelli for the first time. Handel suggests he comes to London with him but without Riccardo, whose success as a composer is based solely on his brother's popularity. Riccardo wrecks the deal and the meeting ends in humiliation on both sides.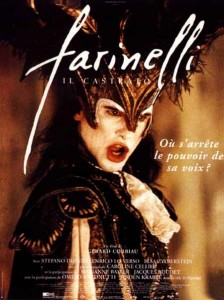 Years later, Farinelli is now 30 and the brothers are famous. They have to share their lovers. After Farinelli seduces a woman, Riccardo takes over for sex. Handel sends Farinelli a letter saying he'll hear him sing in Dresden. Before the show he tells Farinelli the King of England wants him to perform at the opera house in London.
Farinelli's emotional, unable to sing and faints. Handel doesn't come to see him. But Farinelli and Riccardo are persuaded to go to London by the beautiful Alexandra Leyris (Elsa Zylberstein), who wants them to save the Nobles Theatre, the rival opera house.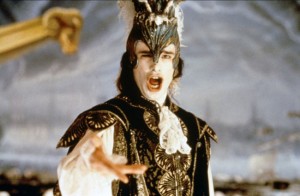 When Farinelli tells his brother his doubts about his music, their relationship worsens. Handel refuses to make peace and Farinelli decides to sing his latest work, whose score Alexandra has stolen for him. Farinelli's obsessively wants to confront Handel, who meets Riccardo and persuades him to tell him his brother's intimate secrets.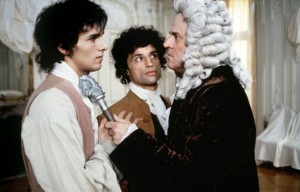 The evening Farinelli's performing Handel's work, Handel challenges him to sing it faultlessly and tells him the secret of his castration. Farinelli manages to control his despair and his voice reaches perfection. Handel's overcome with emotion and Farinelli never sings on stage again.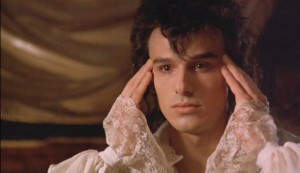 It's a lovely, poignant story, beautifully told, with, of course, marvellous music. You could just sit and listen to the glorious soundtrack if the visuals weren't so stunning too. All four main stars are superlative in dynamically written roles. The film's very nearly the equal of Amadeus, it's that great.
Filming took place at the Margravial Opera House, Bayreuth.
© Derek Winnert 2014 Classic Movie Review 221
Check out more reviews on http://derekwinnert.com/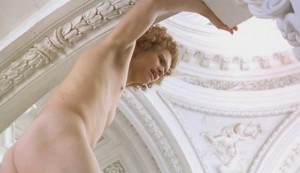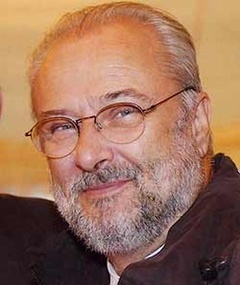 Andrée Corbiau