Fargo ***** (1996, William H. Macy, Frances McDormand, Steve Buscemi) – Classic Movie Review 220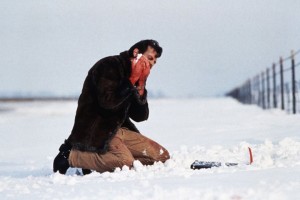 A homespun murder story. The Coen brothers Joel and Ethan are on their best, most exhilarating form in this corking real-life-derived 1996 thriller. It won a Best Actress Oscar for Frances McDormand as the nice, but dogged, very pregnant Minnesota sheriff Marge Gunderson, who's very happily married to the equally nice Norm (John Carroll Lynch).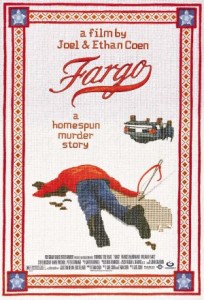 She's on the trail of a hangdog, cash-strapped car salesman Jerry Lundegaard (William H Macy, also just marvellous) who's embezzling from the car dealership where he works is about to be discovered. So he gets bungling, crazed thugs Gaear Grimsrud and Carl Showalter (Peter Stormare, Steve Buscemi) to kidnap his wife for the ransom money his sneery, wealthy father-in-law Wade Gustafson (Harve Presnell) can come up with.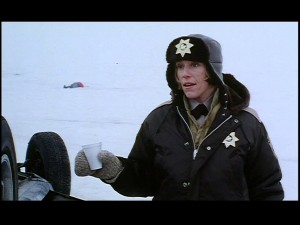 In all the chaos and blood that follows, Marge finds herself cheerfully investigating three appalling murders, including a scary little incident with a wood chipper.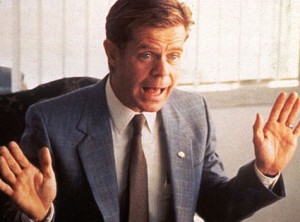 It's hysterically funny in the darkest possible way, and all done with massive verve and imagination. The screenplay, which won a second Oscar, is exemplary, with hilarious dialogue and clever plotting. McDormand, who only appears after half an hour, brings the pulsing heart to an otherwise heartless movie.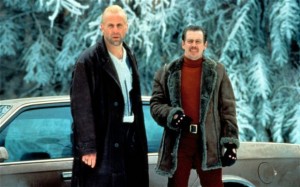 Written by both brothers and directed by Joel, McDormand's husband. They both produce and edit the movie (credited as Roderick Jaynes). Roger Deakins's Minnesota location cinematography is astounding. But in the end, it's McDormand's movie.
The singer José Feliciano appears as himself.
© Derek Winnert 2013 Classic Movie Review 220
Check out more reviews on http://derekwinnert.com/