Fail Safe ***** (1964, Henry Fonda, Larry Hagman, Walter Matthau, Dan O'Herlihy, Frank Overton, Edward Binns, Fritz Weaver, Sorrell Booke, Dom DeLuise) – Classic Movie Review 1379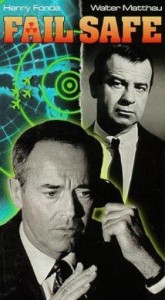 Director Sidney Lumet's brilliant 1964 nuclear war thriller is sweatily tense throughout and often heart-stopping.
Despite its ultra-gripping, important story, dedicated, vital performances, uber-tense mood and deadly message, it was sadly and unfairly wiped out at the box-office and in historical perspective by the glossy black comedy version of a very similar kind of story, Dr Strangelove (1964). Probably Sixties cinema audiences did not care to take the nuclear threat seriously on their night out. Admittedly, it is not a great date movie.
Also Dr Strangelove pipped Fail Safe to the post. It was released in January 1964 but the latter did not come out till the October.
Lumet's bold and chilling classic boasts a great central performance from Henry Fonda as the US President who must try to avert a world holocaust when human errors and computer malfunctions mistakenly send a squadron of American 'Vindicator' bombers off to drop American nuclear bombs on Moscow. To try to convince the Soviets this is in fact a mistake, the President orders the American Strategic Air Command to help the Soviets stop them.
There are also excellent roles for a young Larry Hagman as the President's aide Buck, Walter Matthau as the hawkish professor called Groeteschele who is keen to attack Russia and Dan O'Herlihy as General Black. Frank Overton, Edward Binns, Fritz Weaver as Colonel Cascio, Sorrell Booke and Dom DeLuise are also in the main cast.
Also in the supporting cast are Russell Collins, William Hansen, Russell Hardie, Nancy Berg, John Connell, Frank Simpson, Hildy Parks, Janet Ward, Dana Elcar, Stewart Germain, Louise Larabee and Frieda Altman.
The movie is unusual in not having a musical score. Walter Bernstein's excellent screenplay is based on the book by Eugene Burdick and Harvey Wheeler.
It runs 112 minutes, is released by Columbia, is shot in black and white by Gerald Hirschfeld, is produced by Sidney Lumet and Max E Youngstein, and is designed by Albert Brenner.
It was remade for TV by director Stephen Frears in 2000 with Richard Dreyfuss.

RIP Fritz Weaver (January 19, 1926 − November 26, 2016).
RIP Gerald Hirschfeld, the veteran cinematographer who shot Fail Safe and Young Frankenstein in beautiful black and white. He died on 13 February 2017 of natural causes at his home in Ashland, Oregon, aged 95.
http://derekwinnert.com/dr-strangelove-classic-film-review-209/
© Derek Winnert 2014 Classic Movie Review 1379
Check out more reviews on http://derekwinnert.com/