Extreme Measures ** (1996, Hugh Grant, Gene Hackman, Sarah Jessica Parker, David Morse, Bill Nunn) – Classic Movie Review 5461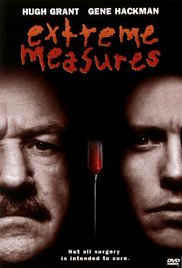 If you think Hugh Grant can only be foppishly funny, try out his big American dramatic debut in director Michael Apted's dark and gritty 1996 medical thriller. Alas, though it is entertaining enough, it never rises above the level of hokum.
And it is soon evident that Grant is fighting an uphill battle against miscasting as Dr Guy Luthan, an English doctor who is in peril and on the run after he uncovers a sinister conspiracy in the New York hospital where he is working. The role was conceived as hard-nosed rather than toffee-nosed and Grant works hard to make you like his character – in contrast to the movie's crazed villain Dr Lawrence Myrick – played by the ever-reliable Gene Hackman, who is evidently enjoying himself.
But the film, though watchable and quite well made, is never credible and unfortunately does not have quality stamped over it, despite all the quality talent involved.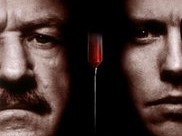 Grant made it with his then girlfriend Elizabeth Hurley as producer, who asked him to do it and then he had the part re-written to tailor it to his talents. He says: 'We made it simply because I thought it was a great script. But it was a nice bonus to back my way out of a comedy corner.'
It also stars Sarah Jessica Parker as Jodie Trammel, David Morse as FBI Agent Frank Hare, and Bill Nunn as Detective Bob Burke.
Also in the cast are  John Toles-Bey, Paul Guilfoyle, Debra Monk, Shaun Austin-Olsen, Andri De Shields, Peter Appel, David Cronenberg, J K Simmons, Peter Appel and Diana Zimmer.
It is written by Tony Gilroy, based on a book by Michael Palmer, shot by John Bailey, scored by Danny Elfman and designed by Doug Kraner.
© Derek Winnert 2017 Classic Movie Review 5461
Check out more reviews on http://derekwinnert.com