Everything You Always Wanted to Know About Sex * But Were Afraid to Ask *** (1972, Woody Allen, Gene Wilder, Louise Lasser, Lynn Redgrave, Lou Jacobi) – Classic Movie Review 4275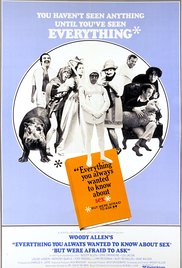 Writer-director Allen's 1972 comedy presents seven silly spoof skits on the subject of sex. They are variable but often very funny, with Gene Wilder as a doctor falling for one of his patients (a sheep), a 40 foot tall breast, Lynn Redgrave in a chastity belt, Lou Jacobi absolutely hilarious in drag (in the film's best section), and Woody Allen as a court jester and a sperm.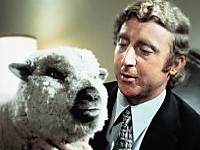 Be prepared for jokes about masturbation ('don't knock it, it's sex with someone you love'), ejaculation, bestiality, transvestism and so on, which made it raunchy and near the knuckle enough in its day to earn an X certificate.. Some may find it all juvenile, some offensive, others just hilarious. You can't knock the cast though, and the movie does (as it should) have a good climax.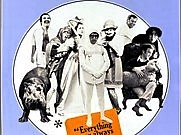 Also in the cast are Anthony Quayle, John Carradine, Lou Jacobi, Louise Lasser, Tony Randall, Burt Reynolds, Gene Wilder, Robert Walden, Jack Barry, Erin Fleming, Robert Q Lewis, Heather McRae, Pamela Mason, Sidney Miller, Regis Philbin, Geoffrey Holder, and Jay Robinson.­­­­
Allen's screenplay is kind of based on the sex manual by Dr David Reuben.

RIP Gene Wilder, aka Jerome Silberman (June 11 1933 – August 29 2016).
© Derek Winnert 2016 Classic Movie Review 4275
Check out more reviews on http://derekwinnert