Every Which Way But Loose *** (1978, Clint Eastwood, Sondra Locke, Geoffrey Lewis, Ruth Gordon, Beverly D'Angelo) – Classic Movie Review 4104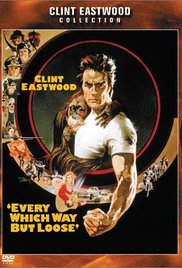 Director James Fargo's 1978 action adventure is robust, punchy knockabout entertainment, with an ideal, tailor-made role for Clint Eastwood as pickup truck driver turned bare-knuckle prize-fighting Philo Beddoe.
Every which way you look there are screenloads of likeable fisticuffs, tussles, dust-ups, rows and hot pursuits in this likeable action comedy with a robust but lighthearted tone in the screenplay by Jeremy Joe Kronsberg.
Eastwood  is joined by bright ensemble playing from Sondra Locke as Lynn, the country singer Eastwood falls for, veteran Ruth Gordon as Clint's Ma, and especially Clyde as his loveably ugly pet orangutan, the prize he wins in a punch-up.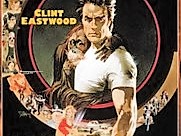 Despite the allure of the highly appealing co-stars in Beverly D'Angelo and Geoffrey Lewis as Echo and Orville, an even more adorable Gordon and the loveable monkey business, it is Eastwood who controls the movie and centres this slapstick, sometimes slapdash, offbeat entertainment.
Also in the cast are Walter Barnes, George Chandler, Roy Jenson, James McEachin, Bill McKinney, William O'Connell, John Quade, Don Vardis and Gregory Walcott.
Riding the storm of much critical disfavour, it was immensely popular, and a follow-up Any Which Way You Can was rushed out in 1980.
© Derek Winnert 2016 Classic Movie Review 4104
Check out more reviews on http://derekwinnert