Eva **** (1962, Stanley Baker, Jeanne Moreau, Virna Lisi, James Villiers, Lisa Gastoni) – Classic Movie Review 3999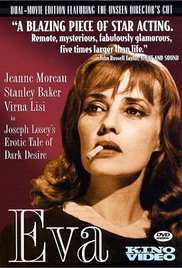 Director Joseph Losey's beautiful looking, smart and clever 1962 erotic thriller is based on the novel Eve by James Hadley Chase (1906–1985), author of No Orchids for Miss Blandish, filmed in 1948.
It stars Stanley Baker as Tyvian Jones, a Welsh writer in Venice who is married to a sad Italian woman, Francesca Ferrara (Virna Lisi), and is destroyed by a French femme fatale hooker, Eve Olivier (Jeanne Moreau).  The money-loving French woman Eve erotically ensnares Jones in her spider's web.
Losey's dark thriller is really rather effective and underrated, and the actors are spot on in tailor-made roles. There is a good screenplay by Hugo Butler and Evan Jones, and a score by Michel Legrand, though the main hero of the day is Gianni di Venanzo for his wonderfully vivid black and white cinematography. Good though Baker is, the movie is all about Moreau's Eve.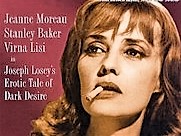 Perhaps surprisingly, it was Losey's favourite of his own movies, but its power was cut along with 12 minutes out of its original 128 minutes of footage in the slashings of producers Robert Hakim and Raymond Hakim – rightly named. In any case, striking and alluring though it is, it is not his best movie, as that must be Accident or The Servant.
Also in the cast are Nona Medici, Francesco Rissone, Giorgio Albertazzi, Riccardo Garrone, Checco Rissone, Enzo Piermonte, Alex Revides, John Pepper, Peggy Guggenheim and Joseph Losey.
The 128 minutes version is now restored as the Director's Cut.
It was originally a Jean-Luc Godard project. Baker replaced Richard Burton, and insisted on the Hakim brothers hiring his friend Losey to direct.
Giorgio Albertazzi, the Italian actor-manager, died on 28 aged 92, and was best known for his unsettling role as X in Alain Resnais's 1961 L'Année Dernière à Marienbad (Last Year at Marienbad). Albertazzi also appeared in Losey's The Assassination of Trotsky (1972).
aged 78.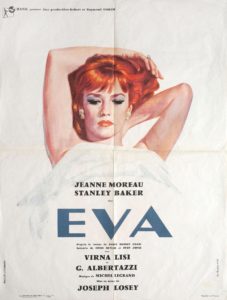 Jeanne Moreau died on 31 aged 89.
© Derek Winnert 2016 Classic Movie Review 3999
Check out more reviews on http://derekwinnert.com