Escape to Victory [Victory] *** (1981, Michael Caine, Sylvester Stallone, Max von Sydow, Pelé, Bobby Moore) – Classic Movie Review 4115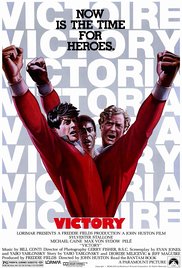 Michael Caine and Sylvester Stallone star in a fairly awesome movie about using a soccer game to cover an escape from a German POW camp in WWII. Director John Huston's eccentric 1981 prisoner-of-war adventure hokum movie and famous footie film is agreeably old-fashioned and enjoyable entertainment.
Huston signed up famous names from both the acting field and the football field (Pelé, Bobby Moore, Osvaldo Ardiles) as the World War Two wartime Allied prisoner of war players who take on the enemy German National Team in a soccer match in Nazi-occupied Paris, while planning to make their escape at half time.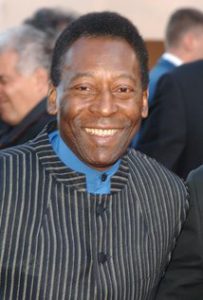 There is plenty here to keep soccer fans and fans of the stars happy. And there are good, controlled performances from Sylvester Stallone (as Canadian commando Robert Hatch), Michael Caine (as a British officer, Captain John Colby) and Swedish superstar Max von Sydow, shamefully typecast, as so often, as a Nazi officer (Major Karl Von Steiner).
Escape to Victory is a Boy's Own adventure version of the real match against the Germans. But it is no dafter than that other popular Caine wartime adventure The Eagle Has Landed (1976).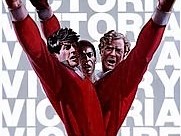 Entertaining though it is, it is unlikely ever to join the ranks of Huston's greatest movies, like The Maltese Falcon, The Treasure of the Sierra Madre, The Asphalt Jungle or The African Queen. Huston seemed to relish the lack of continuity between the kinds of films he made, and he was the only septuagenarian director who could have made this and the musical Annie (1982) as well as Wise Blood (1979), Prizzi's Honor (1985) and The Dead (1987).
Also in the cast are George Mikell, Daniel Massey, Carole Lavre, Tim Pigott-Smith, Julian Curry, Clive Merrison, Maurice Roëves, John Wark, Co Prins, Mike Summerbee, Laurie Sivell, Robin Turner, Amidou, Anton Diffring, Søren Lindsted and Russell Osman.
RIP Tim Pigott-Smith (1946–2017).
© Derek Winnert 2016 Classic Movie Review 4115
Check out more reviews on http://derekwinnert