Elle **** (2016, Isabelle Huppert, Laurent Lafitte, Anne Consigny, Jonas Bloquet, Charles Berling, Judith Magre, Virginie Efira, Christian Berkel) – Movie Review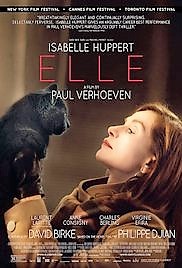 Director Paul Verhoeven's ultra-involving 2016 crime drama is an extraordinary film. Isabelle Huppert is astonishing in a huge and complex star role as Michèle, the apparently supremely self-confident boss of a successful video game company, who is attacked raped in her home by an unknown man in a ski mask.
As an engrossing, thought-provoking thriller, it keeps driving relentlessly along for its epic length (130 minutes), helped by polished film-making, stylish cinematography by Stéphane Fontaine, incisive editing by Job ter Burg and a fine score by Anne Dudley. Though made by a Dutchman, it seems French in every way. It is in French with English sub-titles by the way.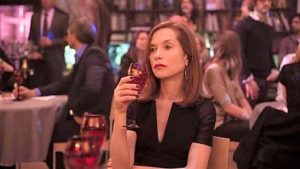 There is plenty to talk about afterwards. Yes it is a character study, but what is it actually about? Is it a bad take on women? Feminists might say it is. I don't know. But I do know that the story isn't about all women, just this one, who has had some terrible trauma in childhood, perhaps like Marnie.
Is Verhoeven up to his old Basic Instinct tricks with his portrayal of violence involving sexual assault, disturbing sexual content, some grisly images, brief graphic nudity, and language? Well, yes, he kind of is. But this is a far more mature, far more polished, intelligent and subtle, just far better movie.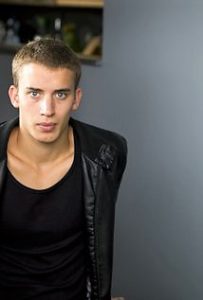 It is full of interesting, indeed fascinating characters, all well developed and given screen time, many of them suspects as the rapist, or just suspected of something dodgy. Jonas Bloquet plays Michèle's weak-minded son Vincent, Laurent Lafitte is her neighbour Patrick, Anne Consigny is her best friend Anna, Charles Berling is her ex Richard, Judith Magre is her toying with a toy boy mother Irène, Virginie Efira is Vincent's greedy and selfish girlfriend, and Christian Berkel is Anna's husband Robert, whom Michèle is toying around with.
These quirky screen characters all seem like real people quite quickly, bringing a huge breath of life to what could have seemed like an artificial thriller. We get to know them, are a bit shocked by them, but are interested in them, enough to judge them, involving us in the story. Our judgement of the characters changes as the film goes on, as we get more info on them, and get to know them. It's the kind of breath of life you don't get much in American thrillers.
It's the fairly rare kind of film you feel you do need to see a couple of times to appreciate fully. That should be good for ticket sales.
David Birke writes the commendable screenplay from the novel by Philippe Djian. Is it a serious novel or a pulp novel? The film gives no clues.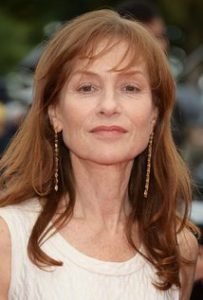 Huppert won the 2017 Golden Globe for Best Performance by an Actress in a Motion Picture – Drama and was Oscar nominated as Best Actress. 'It's always a little miracle for me when my work gets such attention,' she said.
It is the distinguished actress's only ever Oscar or Golden Globe nomination, though she won a Bafta award for Most Promising Newcomer to Leading Film Roles for La Dentellière [The Lacemaker] (1977) and in 2017 the London Film Critics awarded her both the Actress of the Year prize for L'Avenir [Things to Come] (2016) and the Dilys Powell Award.
Up to 2017, she has 16 César Award nominations, but only one win – for La Cérémonie [A Judgement in Stone] (1995).
© Derek Winnert 2017 Movie Review
Check out more reviews on http://derekwinnert.com