East Side, West Side *** (1949, James Mason, Barbara Stanwyck, Van Heflin, Ava Gardner) – Classic Movie Review 5172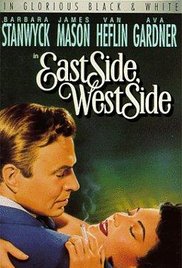 Despite its considerable film noir promise, Marcia Davenport's novel about a New York high society couple does not make a very riveting basis for director Mervyn LeRoy's glossy, operatic 1949 soap-opera movie tale of lust and revenge.
However, the film is totally saved by its marvellous star cast of James Mason, Barbara Stanwyck, Van Heflin and Ava Gardner, and its equally marvellous star supporting cast of Gale Sondergaard, Cyd Charisse, William Frawley, Nancy Davis, William Conrad, Raymond Greenleaf, Douglas Kennedy, Beverly Michaels, Lisa Golm and Tom Powers.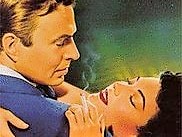 In the story scripted by Isobel Lennart, when Brandon Bourne (Mason) resumes his philandering with the lovely young Isabel Lorrison (Gardner), his neglected wife Jessie (Stanwyck) seeks solace in the World War Two war veteran arms of Mark Dwyer (Heflin), back from a mission in Italy.
Despite the film's deficiencies, the cast got the punters in for MGM back in 1949. And no wonder with this dazzling star quartet, who just sizzle.
Roger Moore appears, uncredited, as a reporter. Also in the cast are Charles McAvoy, Frank Meredith, Stanley Orr, Paula Raymond, Vito Scotti, Harry Strang and Frank Wilcox.
Isobel Lennart was a member of the Communist Party (1939-44) and called before the House Un-American Activities Committee in 1952. In the hall of infamy, she became a 'friendly witness', naming 21 people as former party members.
© Derek Winnert 2017 Classic Movie Review 5172
Check out more reviews on http://derekwinnert.com