Dune **** (1984, Kyle MacLachlan, Kenneth McMillan, Francesca Annis, Brad Dourif, José Ferrer, Linda Hunt, Freddie Jones, Richard Jordan, Jack Nance, Sian Phillips, Sting, Patrick Stewart, Dean Stockwell, Max von Sydow) – Classic Movie Review 4143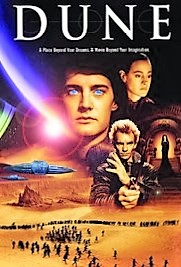 Writer-director David Lynch's career took a nose-dive with the box-office failure of this spectacular, visually thrilling 1984 epic film of Frank Herbert's 1965 sci-fi novel about planetary armies arriving on the harsh desert planet Arrakis – also known as Dune – to seize the drug melange – aka 'the spice' – looked after by giant worms.
Dramatically speaking, the cinema version is a mess, with an unfathomable lengthy opening narration (by Virginia Madsen, who plays Princess Irulan) plunging us into what seems like the middle of the story, in which, in a future 21,000 years from now, noble families  battle for control of Dune whose ecology is the only one that produces the spice, which is vital to space travel and the most valuable commodity in the universe.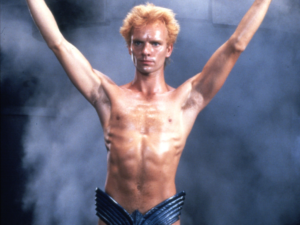 However, thereafter, despite continuing narrative problems, something rather like magic occurs as Lynch's dark imagination is allowed to run riot with $40 million of Italian executive producer Dino De Laurentiis's lavish finance money. Filmed at Churubusco Studios in Mexico City, it is notable for a soundtrack by the rock band Toto and Brian Eno.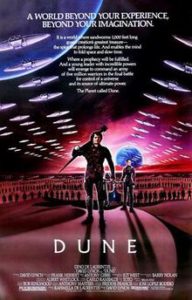 After many negative reviews, it grossed only $27 million in the US and flopped internationally, grossing only $30.9 million altogether worldwide. Lynch said pressure from producers and financiers restrained his artistic control and denied him the all-important final cut of the film. However, Dune's true worth is nowadays better appreciated and the film has something of a cult status.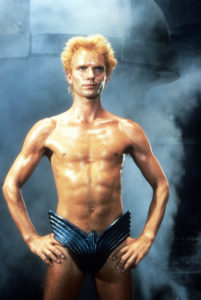 It should do. Dune looks so absolutely splendid that you want to sit there and applaud Freddie Francis's cinematography, production designer Anthony Masters's sets and the special effects.
And it delivers its good-versus-evil fantasy plot with a great deal of skill and élan, thanks to Lynch's talent and gift for building intriguing scenes and atmosphere, as well as the hard, committed work of a large cast of excellent well-known American and European quirky actors, particularly Kenneth McMillan as bloated baddie Baron Vladimir Harkonnen, as well as Kyle MacLachlan as young nobleman Paul Atreides, Sting as Feyd Rautha, Brad Dourif as as Piter De Vries, José Ferrer as Padishah Emperor Shaddam IV, Linda Hunt as the Shadout Mapes, Freddie Jones as Thufir Hawat, Richard Jordan as Duncan Idaho, Jack Nance as Captain Iakin Nefud, Sian Phillips as Reverend Mother Gaius Helen Mohiam, Patrick Stewart as Gurney Halleck, Dean Stockwell as Dr Wellington Yueh, Max von Sydow as Dr Kynes and Francesca Annis as as Lady Jessica.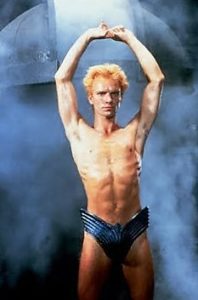 Unfairly scorned, Dune is more of an exciting near-triumph than a heroic failure.
It runs Lynch, who has an acting cameo as a Spice worker, disowned the 190-minute special edition TV version, which has the pseudonym director credit of Alan Smithee, and writer Lynch credited as Judas Booth. The re-edited TV version includes a new prologue and 35 minutes of extra footage.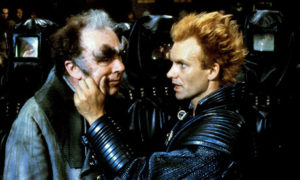 The huge cast includes Francesca Annis, Leonardo Cimino as the Baron's Doctor, Brad Dourif, José Ferrer, Linda Hunt, Freddie Jones, Richard Jordan, Kyle MacLachlan, Virginia Madsen, Silvana Mangano as Reverend Mother Ramallo, Everett McGill, Kenneth McMillan, Jack Nance, Sian Phillips, Jürgen Prochnow as Duke Leto Atreides, Paul Smith, Sting, Patrick Stewart, Dean Stockwell, Max von Sydow, Alicia Roanne Witt, Sean Young, Danny Corkill, Judd Omen, Honorato Magalone and Molly Wryn.
Legendary has hired Eric Roth to write a Dune reboot, with Arrival and Sicario film-maker Denis Villeneuve to direct.
© Derek Winnert 2016 Classic Movie Review 4143
Check out more reviews on http://derekwinnert