Dulcima *** (1971, Carol White, John Mills, Stuart Wilson, Bernard Lee, Dudley Foster) – Classic Movie Review 4277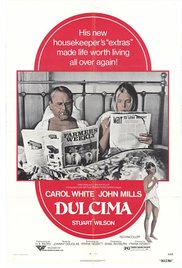 Writer-director Frank Nesbitt's 1971 British drama stars Carol White (Poor Cow) as pretty young Dulcima Gaskain, who helps out mean, hard-drinking old farmer Mr Parker (John Mills) by cleaning his farm house. Soon she moves in with him at his decrepit farm, first as his housekeeper and then as his mistress.
But then she falls for the forest warden (Stuart Wilson) of an estate near by and they start to meet secretly. One day she finds out that Mr Parker has a secret fortune hidden in an upstairs room.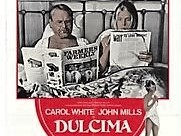 The stalwart acting, especially from Mills (who is convincing as a victim of his own obsessive lust and someone else's obsessive greed) captures the special flavour of H E Bates's story, but Nesbitt's direction lacks conviction and drive.
Also in the cast are Bernard Lee, Dudley Foster, Sheila Raynor, Cyril Cross, Neil Wilson, Peter Reeves, George Hilsdon and Kristin Hatfield.
It runs 98 minutes but the US version runs at 93 minutes.
© Derek Winnert 2016 Classic Movie Review 4277
Check out more reviews on http://derekwinnert