Dragstrip Girl ** (1957, Fay Spain, John Ashley, Steve Terrell, Frank Gorshin, Russ Bender) – Classic Movie Review 4445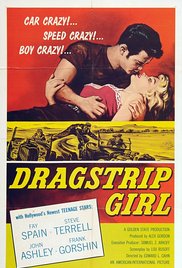 Director Edward L Cahn's 1957 teen movie is an amusing trash cult classic but it is complete tosh with endless shots of cars going relatively quickly while engaged in chicken runs and drag races, a script by Lou Rusoff steeped in macho nonsense and decidedly amateur acting.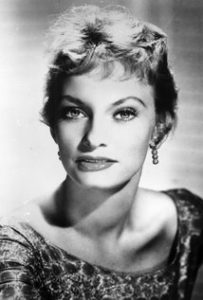 Fay Spain stars as Louise Blake, the 'car crazy, speed crazy, boy crazy' dragstrip girl who inspires two hot-rodders to race to win her love. But Louise bravely steps up a gear when things get rough and takes her place behind the wheel, carefully squeezing her peroxided locks under her helmet.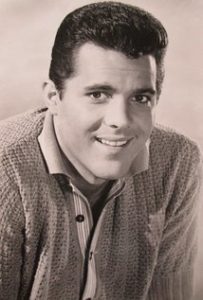 John Ashley also stars in his first film role, as Fred Armstrong. He was accompanying his girlfriend for an audition when Rusoff asked him to audition, winning the role by doing an Elvis Presley imitation. Ironically, the girlfriend was not hired.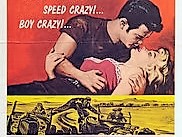 Also in the cast are Steve Terrell, Frank Gorshin, Russ Bender, Tommy Ivo, Gracia Narciso and Tito Vuolo.
It was released by American International Pictures in August 1957 in a double bill with another teen movie, Rock All Night (1957). It was remade was remade later that year as Motorcycle Gang (1957) (also with Ashley) and again as Dragstrip Girl in 1994.
Co-stars Frank Gorshin, Russ Bender and Steve Terrell teamed up again in 1957 with director Cahn for his classically bad sci-fi adventure, Invasion of the Saucer Men.
© Derek Winnert 2016 Classic Movie Review 4445
Check out more reviews on http://derekwinnert.com