Dragoon Wells Massacre ***½ (1957, Barry Sullivan, Dennis O'Keefe, Mona Freeman, Katy Jurado, Sebastian Cabot, Harry Dean Stanton, Casey Adams, Jack Elam, Trevor Bardette, Hank Worden) – Classic Movie Review 4465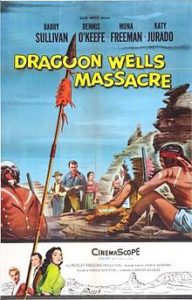 Director Harold Schuster's 1957 minor gem of Western freshly re-tells an old, old cowboy story, in the wake of Stagecoach, about a wagon load of bickering travellers in the desert being attacked by Apaches. Despite its routine potboiler status, it is well acted by a fired-up cast and it has a neat twisty script that springs some useful surprises. The film a great credit to director Schuster, who ensures that it is carefully crafted and tautly handled.
This CinemaScope Western is quite busy, eventful and action packed, and astonishingly eye-catching in William Clothier's De Luxe Color cinematography. And the good old cast and all the hard work put into the movie pay off by easily disguising the fact that it starts off from being little more than just production-line fodder.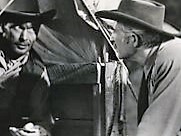 Dennis O'Keefe stars as the brave cavalry officer Captain Matt Riordan, lone survivor of an Indian attack, leading the party through hostile Native American land. Also in the line-up are Trevor Bardette as Bill Haney, the marshal who is escorting killer Link Ferris (Barry Sullivan) to justice; Mona Freeman as O'Keefe's ex, Ann Bradley; and Katy Jurado as his latest flame Mara Fay, as well as Sebastian Cabot (Jonah), Harry Dean Stanton, Casey Adams [Max Showalter] (Phillip Scott), Jack Elam (Tioga)  and Hank Worden (Hopi Charlie).
The screenplay is by Warren Douglas, based on an original story by Oliver Drake.
Also in the cast are Jon Shepodd, Warren Douglas, Judy Stranges [Strangis], Alma Beltran, John War Eagle and Harry War Eagle.
This and the 1954 film noir thriller Loophole are considered Schuster's best work.
© Derek Winnert 2016 Classic Movie Review 4465
Check out more reviews on http://derekwinnert.com