Dr Goldfoot and the Girl Bombs [Le spie vengono dal semifreddo] * (1966, Vincent Price, Fabian Forte, Franco Franchi, Ciccio Ingrassia) – Classic Movie Review 4314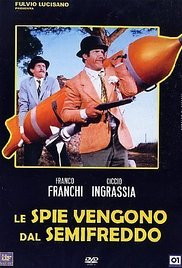 'MEET THE MOST TITILATING TIME BOMBS EVER! '
Vincent Price went to Italy to re-create his role as the mad scientist Dr Goldfoot for director Mario Bava's unwanted and stupid 1966 sequel to the previous year's Dr Goldfoot and the Bikini Machine (1965), in which he teams with up Red China to drop girl bombs into generals' laps.
Bava's 1966 follow-up  is even more ridiculous than before. At least the plot and premise made some kind of sense the first time, but now the story about Chinese villains and girl bombs is just plain stupid. Dr Goldfoot is making female robot bombs to blow up high-ranking generals of NATO countries as part of his plot to take over the world.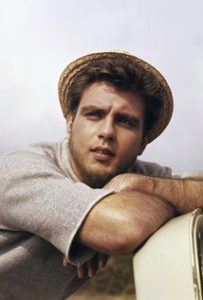 Famed Italian fantasy director Mario Bava seems utterly lost, but the game for anything Vincent Price carries on regardless as mad scientist Dr Goldfoot, determined, as ever, to give the best value he can for his pay cheque.
Another Fifties pretty boy singer, Fabian Forte, replaces Frankie Avalon as the young male lead, and plays disgraced government agent Bill Dexter, the man charged with stopping Dr Goldfoot.
The unpopular-abroad Italian stars are Franco Franchi and Ciccio Ingrassia who, despite their popular appeal in Italy proved deeply untravellable as attractions. Also in the cast are Laura Antonelli, Susan Hart, Moa Tahi as Dr Goldfoot's assistant Hardjob and Francesco Mulé.
American International Pictures boss James H Nicholson is to blame, as he again wrote the story under the pseudonym of James Hartford, and it was AIP that sent Price and Forte to Italy.
© Derek Winnert 2016 Classic Movie Review 4314
Check out more reviews on http://derekwinnert.com