Dr Goldfoot and the Bikini Machine * (1965, Vincent Price, Frankie Avalon, Dwayne Hickman, Fred Clark, Susan Hart) – Classic Movie Review 4225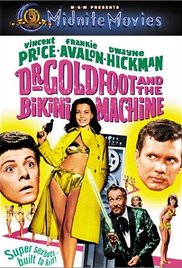 This ridiculous Sixties parody sci-fi comedy wastes Vincent Price, who shows his always eager-to-please good nature in his readiness to appear in absolutely anything. Price relishes hugely over-playing the mad doctor Goldfoot, who makes girlie robots to attract rich men as husbands, in director Norman Taurog's daft, juvenile 1965 farcical comedy.
The absurd plot about a crazy inventor making cyborg consorts for millionaires would have taken a lot more wit to be workable and even more to make it fun. Three Stooges writer Elwood Ullman and Robert Kaufman should be ashamed of their desperate script. But maybe it is American International Pictures boss James H Nicholson who is to blame, as he wrote the story under the pseudonym of James Hartford.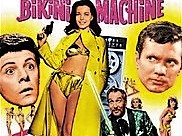 Also in the cast are Frankie Avalon as secret agent Craig Gamble, Dwayne Hickman, Susan Hart, Fred Clark, Jack Mullaney as Price's henchman Igor, Milton Frome, Alberta Nelson and Hal Riddle. But Avalon looks lost without his regular screen partner Annette Funicello, though she does appear in a cameo as Girl in Dungeon in the film's parody of The Pit and the Pendulum, which also features Harvey Lembeck as Erich Von Zipper in a blink and you'll miss it cameo.
Weirdly, it was a hit for American International Pictures and a sequel followed, Dr Goldfoot and the Girl Bombs, directed by Mario Bava in 1966, again with Price.
In Britain, a real Dr Goldfoot complained and the title was shortened to Dr G and the Bikini Machine.
Taurog's known as Elvis Presley's regular director. The Supremes sing the title song The Bikini Machine, which was not really a hit, surprisingly enough.
© Derek Winnert 2016 Classic Movie Review 4225
Check out more reviews on http://derekwinnert