Down Terrace ** (2009, Robin Hill, Robert Hill, Julia Deakin) – Classic Movie Review 3845
A Brighton crime family of small-time, drug-supplier crooks try to unmask a police informer who sent the father and son to jail in this cheaply made Brit black-comedy crime drama thriller, ingeniously filmed almost entirely in one house in eight days by TV director Ben Wheatley in his first feature.
Some good, darkly funny dialogue saves it. And, after a slow first half-hour that plays like a kitchen-sink realist drama when a girl turns up pregnant with the son's child, it sparks up into sprightly sub-Sopranos mode, as the sudden wave of killings are well staged, with style and ingenuity.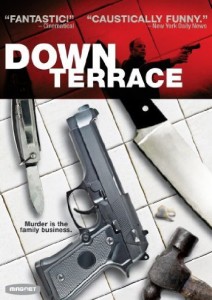 The mostly ad-libbed script is very variable, between funny and clunky, as Harold Pinter meets Mike Leigh. The acting is also very variable, between professional and all over the place: Robert Hill and Robin Hill star as the father and son, and they keep the show going.
It does have a sneaky something going for it, but not much. And, oh dear, it's all so darned nasty and unpleasant in its sub-Tarantino way.
Wheatley writes with Robin Hill.
Wheatley went on to direct Kill List (2011), Sightseers (2012) and High-Rise (2015).
© Derek Winnert 2016 Classic Movie Review 3845
Check out more reviews on http://derekwinnert.com