Down by Law ***** (1986, Tom Waits, John Lurie, Roberto Benigni) – Classic Movie Review 1635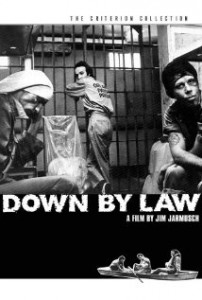 Writer-director Jim Jarmusch's 1986 noirish dark comedy is a brilliant major cult movie, still as fresh as the day it was made. It's dazzlingly filmed in glorious eye-catching monochrome images on striking down-at-heel Louisiana locations with appealing music by its stars Tom Waits and John Lurie.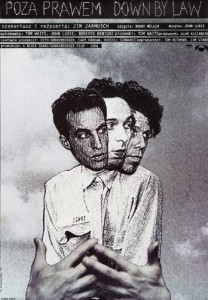 Waits and Lurie play D J Zack and pimp Jack, both of whom are somehow framed for crimes they didn't commit. Zack agrees to drive a car and is stopped by cops who find a body in the trunk. Jack is sent to recruit a new hooker, who turns out to be a child, and again the cops turn up just at the right (wrong?) moment.
Zack and Jack are arrested in separate incidents but end up together in a scary Louisiana jail, where they bicker, quarrel and fight, and soon find themselves sharing their prison cell with crazy Italian optimist Roberto (Roberto Benigni) who suffers from a case of terrible hiccups as well as terrible English. The other two find this as infuriating as it is entertaining. Roberto seems sweet enough but he then tells them he has murdered a guy. However, Roberto may have crap English but he knows an escape route.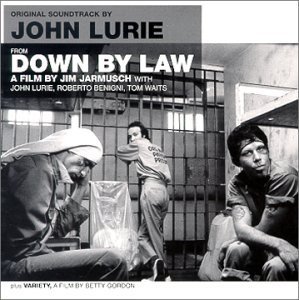 So Benigni turns out to be their salvation, and the film's too, turning in an infectiously funny, often hilarious, extremely well-judged comedy performance that's in many ways the making of the entire movie. On the one hand he's the stereotype comedy Italian, but on the other hand he's cleverer and wittier than the other two and provides the crucial way out for everyone. Benigni takes it naturally and doesn't overdo it as he's able to easily. It works a treat.
Oddly, Benigni's comedy seems to exist in a different movie from everything else in Down by Law. But it runs parallel to the rest and it gives the weird sensation that you're seeing two films unspooling at once side by side on split screen.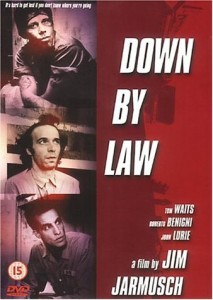 Even if Benigni's the making of the movie, that's not to put down Waits and Lurie, though, because both of them are stupendous, giving rich, detailed and oddly appealing performance of great charisma. Funny comedy though Down by Law is, it also an art movie and a very considerable one. Robby Müller's monochrome cinematography is an astounding art work in its own right. You want to freeze the frame time after time and send the image to an art gallery.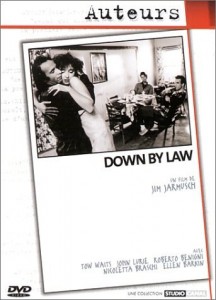 After a sedately paced, arty, unsettling start, Jarmusch's quirky film kicks in as extremely funny and enjoyable, as well as moving on to being finally endearing. Ellen Barkin and Nicoletta Braschi contribute important cameos in key scenes at the beginning and end of the movie, as Waits's angry and abusive lover Laurette and Benigni's sweet new-found Italian girlfriend Nicoletta. Progressing from violent to charming, this is a basically dark-toned movie that never once looks as though it could possibly have a happy ending.
Rated R for strong language with several uses of graphic profanities, plus there's a topless female prostitute and one 45 second scene where Zack and Jack  fight.
The digitally re-mastered film will be released in UK cinemas on September 15 2014, with Permanent Vacation, Stranger Than Paradise, Mystery Train, Night on Earth and Dead Man also re-mastered and released on DVD. A complete retrospective of Jarmusch's features run at BFI Southbank in London September 9 to October 7 2014, with a smaller selection of films going on tour around the UK. Only Lovers Left Alive is also released on September 15 on DVD and Blu-Ray.
http://derekwinnert.com/only-lovers-left-alive-film-review/
© Derek Winnert 2014 Classic Movie Review 1635
Check out more reviews on http://derekwinnert.com/