Donovan's Brain *** (1953, Lew Ayres, Gene Evans, Nancy Davis, Steve Brodie, Tom Powers) – Classic Movie Review 5604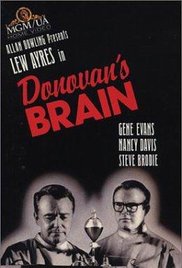 Lew Ayres brings surprising conviction to a silly role as Dr Patrick Cory, a surgeon who keeps a plane-crash dead millionaire's brain alive in his lab and becomes possessed by it himself, taking on the look, habits and style of the nasty mogul.
But then cameraman Herbie Yocum (played by Steve Brodie) photographs the disembodied brain and tries to blackmail Ayres.
The moral of the story of course is: never listen to a brain without a head living in a fish tank!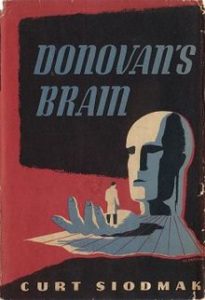 The main credit here in this 1953 horror thriller must go to Ayres, then to conscientious writer-director Felix E Feist, who based his screenplay on Curt Siodmak's cult 1942 science fiction novel Donovan's Brain, previously filmed as The Lady and the Monster (1944), and again as Vengeance and The Brain (1962).
It also stars Gene Evans as Dr Frank Schratt, Nancy Davis (Nancy Reagan) as Janice Cory and Tom Powers as Donovan's Washington advisor, with Michael Colgan as Tom Donovan. Also in the cast are Lisa K Howard, Kyle James, Stapleton Kent, Peter Adams, Victor Sutherland, John Hamilton, Harlan Warde, Paul Hoffman, Shimen Ruskin, Mark Lowell, Faith Langley, William Cottrell and Tony Merrill.
It runs 83 minutes, is released by United Artists, is shot in black and white by Joseph F Biroc, is produced by Tom Gries, is scored by Eddie Dunstedter and is set designed by Boris Leven.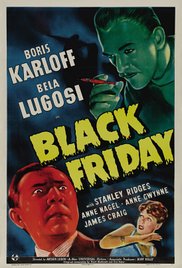 Siodmak first used the 'Brain Movie' idea for his screenplay for Black Friday (1940) with Boris Karloff, Bela Lugosi and Stanley Ridges.
© Derek Winnert 2017 Classic Movie Review 5604
Check out more reviews on http://derekwinnert.com