Donnie Darko ***** (2001, Jake Gyllenhaal, Jena Malone, Mary McDonnell, Drew Barrymore, Noah Wyle, Patrick Swayze, Maggie Gyllenhaal, James Duval, Seth Rogen) – Classic Movie Review 46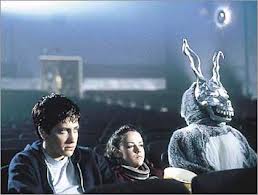 'The dreams in which I'm dying are the best I ever had.' – Mad World.
Back in 2001, Jake Gyllenhaal puts in an outstanding bid for serious-actor stardom as disturbed teenager Donnie, who, after escaping a bizarre accident, can see a monster rabbit that tells him the end of the world is nigh and makes him flood his school and set fire to people's homes.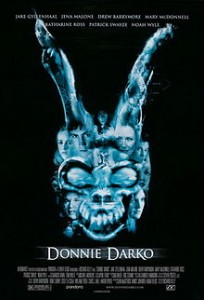 Not your average movie then — not by miles and miles— this haunting, totally original psychological chiller is a humdinger, drawing you into its crazy world thanks to Gyllenhaal's tour-de-force turn, and effective cameos from producer Drew Barrymore and ER's Noah Wyle (as teachers) and Patrick Swayze (as a fraudulent self-help guru). Mary McDonnell as Donnie's mom, Jena Malone as his friend Gretchen and Maggie Gyllenhaal as his sister Elizabeth also make essential contributions. Spot a young Seth Rogen as Ricky Danforth.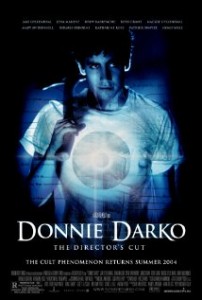 It is so incredibly gripping, clever and complex that you will want to see it again immediately. The soundtrack is inspired, especially the clever use of Tears for Fears' Mad World. Richard Kelly's screenplay and direction take your breath away with their unique imagination and confidence, and Gyllenhaal's stunning performance is the perfect incarnation of Kelly's thrilling weird, twisted vision. While Gyllenhaal has gone from strength to strength, Kelly has not so far found a brilliant follow-up to this masterwork.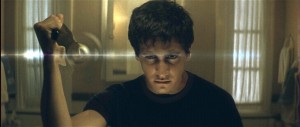 Also in the cast are Daveigh Chase as Donnie's younger sister Sam, Holmes Osborne, James Duval, Arthur Taxier, Mark Hoffman, David St James, Tom Tangen, Jazzie Mahannah, Jolene Purdy, Stuart Stone, Gary Lundy, Alex Greenwald, Beth Grant, David Moreland as Principal Cole, Katharine Ross as Dr Lilian Thurman and Patience Cleveland as Roberta Sparrow / Grandma Death.
The film runs a tense and satisfying 113 minutes, but the 20 minutes longer, much altered 2004 Director's Cut, while fascinating and essential viewing, is not necessarily an improvement.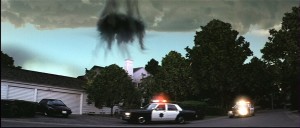 Budgeted at $4,500,000 and filmed over 28 days, it grossed a disappointing $7,700,000 worldwide, just covering its costs. But it was a runaway hit on DVD with US sales of more than $10 million. And its great reviews and word of mouth plus its cult status keep it always current.
A fierce champion of the movie, Gyllenhaal offers no help at all to understanding it, or does he? 'What is it about? I have no idea, at least not a conscious one,' he says. 'But somehow I've always understood it. The most amazing thing about making this movie, for me, was the fact that no one ever had a simple answer to this question. And that, ironically, is the very thing that the film is actually about. There is no single answer to any question.'
An unpopular 2009 sequel, S. Darko, centres on Sam (Daveigh Chase), Donnie's younger sister.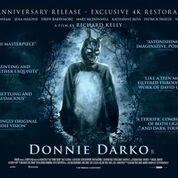 On 31 October 2016 Arrow Films announced that it is releasing Donnie Darko in UK cinemas to celebrate its 15th anniversary with a 4K restoration. The original theatrical version has an exclusive run at London's BFI from 16 December 2016, followed by a nationwide release from 23 December 2016. The newly remastered Director's Cut is also to be screened.
© Derek Winnert 2013 Classic Movie Review 46
Check out more reviews on http://derekwinnert.com/