Dog Eat Dog *** (2016, Nicolas Cage, Willem Dafoe, Christopher Matthew Cook, Paul Schrader) – Movie Review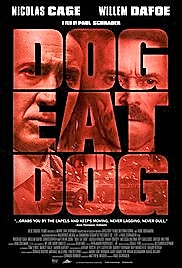 Some crazy movie, Dog Eat Dog!! A bunch of old guys behaving badly, well we know what that's like!
Nicolas Cage, Willem Dafoe and Christopher Matthew Cook star as ex-con buddies Troy, Mad Dog and Diesel, who agree with a Cleveland mafioso to kidnap a rival gangster's baby in director Paul Schrader's 2016 black comedy lowlife drama.
That makes Matthew Wilder's screenplay, based on the novel by Edward Bunker seem as though it has a coherent plot and is a satisfying crime thriller. Oh but it's not. It is some kind of weird character study, sex fuelled, alcohol fuelled and probably drug fuelled, playing like a series of wacko psychedelic escapades, much like in Terry Gilliam's film of Hunter S. Thompson's Fear and Loathing in Las Vegas (1998). It's all very cynical and shocking, but it all just happens over there up on screen, with no connection to reality, weirdly both involving and completely unengaging at the same time. It doesn't seem possible, but it is.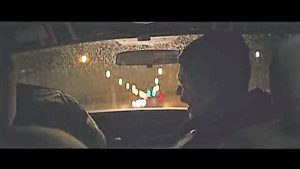 The IMDb has a like button so you can 'like' on Facebook, but I'd have trouble saying 'like', though, there again, OK grudgingly then, 'like'. In many ways this is quite a bad film, cheap and tawdry, but in a few ways it's quite inspired. Cage, Dafoe and Cook give their all for it, and Schrader films it like he's a kid just out of film school, trying out any grungy, flashy device he thinks he fancies and can get away with, as well as one or two he knows he can't.
It's kind of two stars for quality and achievement, but three stars for inspiration, novelty, energy, daring and cheek. That ought to make it two and a half, but, look, it's the 70-year-old legend Paul Schrader, and he co-stars too as Grecco the Greek in a performance that exactly matches the film: two stars for quality and achievement, but three for inspiration, novelty, energy, daring and cheek. So there we are, it's three stars. Whew!
Cinamatographer Alexander Dynan gives it a great Neon look, and production designer Grace Yun makes it look nice and sleazy, retro style.
Schrader and Cage made the ill-fated Dying of the Light (2014) together, while Cage and Dafoe made Wild at Heart (1990) together. Legends all. And another, Edward Bunker (1933–2005), known for ever as Mr Blue in Reservoir Dogs (1992).
© Derek Winnert 2016 Movie Review
Check out more reviews on http://derekwinnert.com