Dodgeball: A True Underdog Story **½ (2004, Vince Vaughn, Ben Stiller, Rip Torn, Justin Long, Christine Taylor, Gary Cole) – Classic Movie Review 4356
To save his gym from foreclosure, Vince Vaughn arranges for his gang of gym buddy misfits to fight Ben Stiller's team for a $50,000 prize at a Las Vegas game of dodgeball.
There are as many dodgy laughs as funny ones in writer-director Rawson Marshall Thurber's typically outrageous, non-PC laddish farce, with nifty Vaughn (as Peter La Fleur) surprisingly outpacing smug Stiller (as White Goodman) in the funny stakes by playing the comedy straight instead of mugging.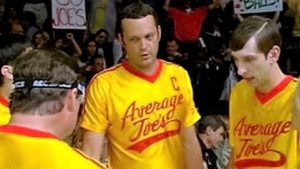 As legendary ADAA champ Patches O'Houlihan who turns up to train Peter's team, old Rip Torn should know better.
Also in the cast are Justin Long, Christine Taylor, Gary Cole, Alan Tudyk, Missi Pyle, Jason Bateman and Hank Azaria, plus William Shatner as the Dodgeball Chancellor and David Hasselhoff as the German Coach. Lance Armstrong and Chuck Norris appear as themselves. Rawson Thurber has a director cameo as Obnoxious Las Vegas Homophobe.
It was a huge hit. On a $20,000,000 cost, it took $30,000,000 on its US opening weekend alone, to go on to a US gross of $115,000,000.
The European and Australian ad line was 'Grab Life by the Balls' but in the US it was 'Grab Life by the Ball'. Now that is funny!
© Derek Winnert 2016 Classic Movie Review 4356
Check out more reviews on http://derekwinnert.com