Django Shoots First [Django Spara Per Primo] ** (1966, Glenn Saxson, Ida Galli, Fernando Sancho, Nando Gazzolo) – Classic Movie Review 4938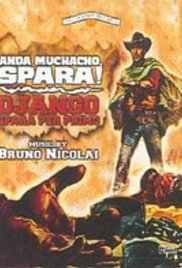 Glenn Saxson takes over as Django battling his late dad's duplicitous business partner Ken Clusker (Nando Gazzolo) in director Alberto De Martino's predictable though lusty 1966 spaghetti Western, with the usual revenge theme.
More blood flows and bullets fly in yet another film in the seemingly endless Django series of Italian Westerns.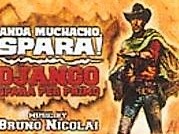 Also in the cast are Ida Galli (billed as Evelyn Stewart), Alberto Lupo, Nando Gazzolo, Fernando Sancho, Erika Blanc, José Manuel Martin, Guido Lollobrigida (billed as Lee Burton) and Diana Larys.
It is written by Massimiliano Capriccioli, Tito Carpi, Sandro Continenza and Alberto De Martino, shot by Riccardo Pallottini, produced by Edmondo Amati and scored by Bruno Nicolai.
© Derek Winnert 2017 Classic Movie Review 4938
Check out more reviews on http://derekwinnert.com