Django Kill! [Si Sei Vivo, Spara!] ** (1967, Tomas Milian, Marilù Tolo, Piero Lulli) – Classic Movie Review 4937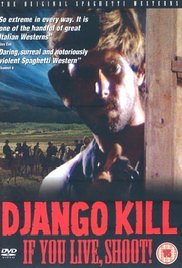 This time Tomas Milian stars as flinty-eyed Django, aka The Stranger, who drifts into a border town split by the warring gangs and is helped out to survive the film's bloodbath by a couple of Native Americans. Everybody is after some stolen gold, including a gang of gay cowboys and a priest – and of course Django, who was part of the band of thieves who stole the gold from a stagecoach before he was betrayed and left for dead.
This 1967 release is another atmospheric, slightly overcooked Spaghetti Western, confidently filmed by director Giulio Questi and overflowing with even more trigger-happy violence than before.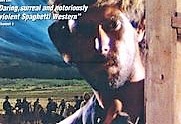 Milian proves his worth as a good replacement for the original Django, Franco Nero. Also in the cast are Marilù Tolo, Piero Lulli, Milo Queseda, Roberto Camardiel and Raymond [Ray] Lovelock.
It is written by Franco Arcalli, shot by Franco delli Colli and produced by Giulio Questi.
It is also known as Django Kill… If You Live, Shoot!
© Derek Winnert 2017 Classic Movie Review 4937
Check out more reviews on http://derekwinnert.com