Divine Secrets of the Ya-Ya Sisterhood *** (2002, Sandra Bullock, Ashley Judd, Ellen Burstyn, Maggie Smith, James Garner, Fionnula Flanagan, Shirley Knight, Angus Macfadyen) – Classic Movie Review 5009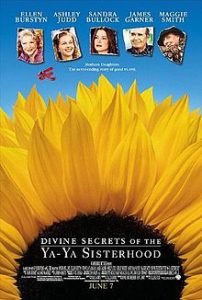 A total chick-flick is on the menu as some of the screen's mightiest ladies gather for co-writer/ director Callie Khouri's heartwarming, life-affirming 2002 Southern saga, set in a sleepy Louisiana small town.
Sandra Bullock is as bright as a button as a famous New York playwright, Siddalee 'Sidda' Walker, who enrages her eccentric US Southern mother Vivi (Ellen Burstyn) by describing her unhappy childhood in a magazine interview. Mom's lifetime friends – The Ya-Ya Sisterhood  – kidnap Bullock and bring her back to the South to reveal the truth and reunite the feuding pair.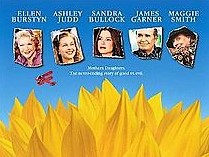 Based on the bestselling novel by Rebecca Wells, this rambling, lengthy (116 minutes) and rather fuzzy tale is best seen as an acting banquet for players generally starved of such good chances, with Burstyn (aged 70) just superb and a scene-stealing Maggie Smith (a mere 67) grabbing her moments of glory as caro, one of the Ya-Ya Sisters.
It is all a bit manipulative, a bit mechanical and sometimes a bit fumbled by director Khouri. But there are enough hilarity, sadness, good-spirits and, certainly, acting talent to go round. It would have been nice to see more of James Garner as patient, long-suffering dad, Shep, because his few moments are great.
Also in the cast are Ashley Judd, Fionnula Flanagan, Shirley Knight, Angus Macfadyen, Katy Selverstone, Jacqueline McKenzie, Kiersten Warren, Caitlin Wachs, Mary Katherine Weiss, Alyssa May Gold, Nicki Tschudi, David Lee Smith, Gina McKee, Matthew Settle, David Rasche, Leslie Silva, Ron Dortch and Fred Koehler.
The novel adaptation is by Mark Andrus.
It was relatively cheap to make at $27 million and did very well to take just under $70 million at the US box office.
© Derek Winnert 2017 Classic Movie Review 5009
Check out more reviews on http://derekwinnert.com