Distant Voices, Still Lives **** (1988, Freda Dowie, Peter Postlethwaite, Angela Walsh, Dean Williams, Lorraine Ashbourne, Jean Boht) – Classic Movie Review 5155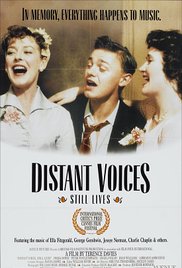 Writer-director Terence Davies's haunting, poignant, uncompromisingly unsentimental 1988 autobiographical British film is a study of late Forties, early Fifties working-class life in Liverpool, England.
It is meant to be a compliment to say that it plays like an upmarket film version of TV's Coronation Street. In any case, it is a true work of art. Davies's taken-from-life film explores the relationships and emotions of a family blighted by a father's brutality, failed marriages and postwar life's hardships.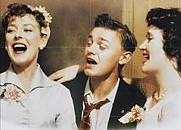 The film is a remarkable achievement by Davies, who triumphs over meagre financial resources and the difficulties of filming at intervals over a couple of years, mainly thanks to the fine performances of a relatively unknown cast, particularly by the actresses, and the leavening of humour in an often tough-toned and depressing tale. Also to recommend it, there are very fine visuals, with cinematography by William Diver and Patrick Duval, and production designs by Miki van Zwanenberg, and a haunting Forties and Fifties soundtrack of the pop songs of the day.
It stars Freda Dowie as Mother, Peter Postlethwaite as Father, Angela Walsh as Eileen, Dean Williams as Tony, Lorraine Ashbourne as Maisie and Jean Boht as Aunty Nell.
Also in Carl Chase, Chris Darwin as Red, Sally Davies, Frances Dell, Anne Dyson, Susan Flanagan, Debi Jones as Micky, Matthew Long, Vincent Maguire as George, Antonia [Toni] Mallen as Rose, Andrew Schofield as Les, Michael Starke as Dave, Pauline Quirke as Doreen, Nathan Walsh and Marie Jelliman.
Though only 85 minutes long, Distant Voices, Still Lives comprises two separate short films, shot two years apart with the same cast and crew. Distant Voices tells the story of a working-class English Catholic family living under Father's domineering patriarchal regime, while Still Lives sees the children grown up and emerging into a brighter Fifties Britain.
It was re-released in the UK by the British Film Institute in 2007.
It follows The Terence Davies Trilogy (1983) and is followed by The Long Day Closes (1992).
The central location of 47 Whistler Street, London N5 1NJ, was chosen for its architectural similarity to Davies's childhood home in Kensington Street, Liverpool. Davies recalls: 'The house where I grew up was demolished in 1961. And it was unique. I was able to rebuild it for The Long Day Closes. But we didn't have a huge budget for Distant Voices, Still Lives, so we had to find something that looked a working-class street, and we shot in Drayton Park. But there were no cellars, so it wasn't like our house. We had to go with what was there, because we didn't have the money. So that was a practical thing.'
© Derek Winnert 2017 Classic Movie Review 5155
Check out more reviews on http://derekwinnert.com