Distant Drums ***½ (1951, Gary Cooper, Mari Aldon, Richard Webb, Ray Teal, Arthur Hunnicutt, Robert Barrat) – Classic Movie Review 4784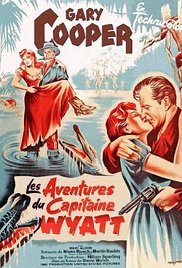 In 1840s Florida, Army Captain Quincy Wyatt (Cooper) and Lieutenant Richard Tufts (Richard Webb) free prisoners from the clutches of the Seminole Indians, and fight their way back to safety through Indian country in director Raoul Walsh's generally quite exciting 1951 Florida Western update of his own 1945 Objective, Burma! with Errol Flynn. It is partly a curiosity as a relatively rare example of a remake by the original director.
Captain Wyatt destroys a fort held by the Spanish gunrunners and then retreats into the Everglades while being chased during the Second Seminole War in the 1840s.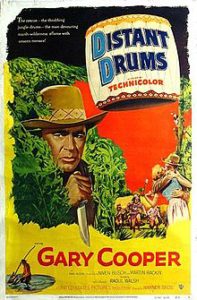 There is plenty vigour in the acting from Cooper and Arthur Hunnicutt as his scout Monk, while Walsh's keen direction of the action highlights, especially the underwater knife fight, keeps the decent yarn going through a few flat, slow patches.
It is a pity about some poor-looking studio sets and linking voice-overs but they do not spoil the movie too much. However, most of the filming took place at the actual location of the fort in the film, which is the historic Castillo de San Marcos National Monument in St Augustine, Florida. It was also filmed on location in Florida at the Everglades National Park, Naples, and Silver Springs.
Niven Busch and Martin Rackin's screenplay is based on Busch's story. It is shot in luxurious Technicolor by Sid Hickox, produced by Milton Sperling, scored by Max Steiner and designed by Douglas Bacon.
It also stars Mari Aldon as Judy Beckett, Ray Teal as Private Mohair, and Robert Barrat as General Zachary Taylor.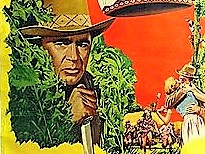 Also in the cast are Mel Archer, Greg Barton, Beverly Brandon, Sidney Capo, Larry Carper, Clancy Cooper, Carl Harbaugh, Warren McGregor, Angelita McCall, Lee Roberts, George Scanlan, Dee White and Sheb Wooley.
This film contains the first known instance of a 'Wilhelm scream' sound effect of a man screaming, here a character being torn to pieces by an alligator.
© Derek Winnert 2016 Classic Movie Review 4784
Check out more reviews on http://derekwinnert.com