Dinosaurus! *** (1960, Ward Ramsey, Paul Lukather, Kristina Hanson) – Classic Movie Review 4861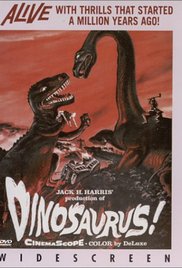 Co-writer/ co-producer/ director Irvin S Yeaworth Jnr's 1960 sci-fi comedy fantasy film is hard to dislike, easy to laugh with or at, and very possible to enjoy. It stars Ward Ramsey, Paul Lukather, and Kristina Hanson.
Based on an idea by co-producer Jack H Harris, this is an amusingly daft sci-fi film in which a boy makes friends with a brontosaurus on a Caribbean tropical island, afflicted by nearby undersea explosions. It's a bit of a shock when prehistoric creatures are unleashed on the population.
Meanwhile, it's more of an actual shock when lightning revives a roaring Tyrannosaurus-Rex, while a friendly Neanderthal caveman, also freed from his watery grave, battles Sixties electrical appliances, probably like the housewives of the era.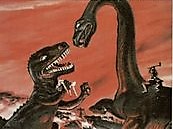 It is co-written by Dan E Weisburd, shot in DeLuxe colour and CinemaScope widescreen by Stanley Cortez, produced by Jack H Harris and Irvin S Yeaworth Jnr, scored by Ronald Stein, made and released by Universal on a decent $450,000 budget, with fun stop-motion animation special effects by Tim Barr.
Also in the cast are Alan Roberts, Gregg Martell (as The Neanderthal), Fred Engelberg, Luci [Lucita] Blain, Jack Younger, Wayne C Treadway, Howard Dayton and James Logan.
Marcel Delgado was given less than half the time agreed on to create the dinosaur models – just two weeks.
The stop-motion crew used their brontosaurus model and miniature jungle set for a shot of an episode of TV's The Twilight Zone, The Odyssey of Flight 33.
Universal distributed it in a double bill with SOS Pacific (1959).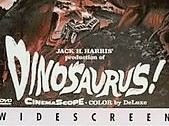 Voyage to the Prehistoric Planet (1965) re-uses Stein's music from Dinosaurus!.
The advertising doesn't seem to know how old the dinos are: 'Today's most astounding adventure…that started a million years ago!' or 'Alive with thrills after 70 million years!' A million, 70 million, who cares? They're old and they're alive.
Director Yeaworth Jr and producer Harris also made The Blob (1958) with Steve McQueen, who lost the lead role here as they allegedly found McQueen difficult to work with.
age 88.
© Derek Winnert 2017 Classic Movie Review 4861
Check out more reviews on http://derekwinnert.com