Devil's Island [Song of Hell] *** (1939, Boris Karloff, James Stephenson, Nedda Harrigan) – Classic Movie Review 5629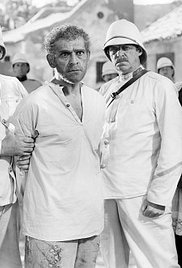 Director William Clemens's searing, realistic and revelatory 1939 drama stars Boris Karloff who gives a splendidly full-blooded performance as Dr Charles Gaudet, a brain surgeon condemned to the dreaded French Devil's Island penal colony for treasonously treating a wounded escaped revolutionary prisoner.
Also commendably catching the eye are the performances of James Stephenson as Colonel Armand Lucien, the brutal governor, and Nedda Harrigan as his wife Helene, who helps Karloff's Dr Gaudet after the couple's daughter is hurt in an accident and he saves her.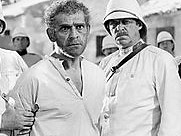 This short (just 62 minutes), but impactful and impressive movie's release was delayed for a year when the French consulate protested at its portrayal of the terrible conditions of the penal colony.
The screenplay by Kenneth Gamet and Don Ryan comes from an original story by Anthony Coldeway and Raymond L Schrock.
Also in the cast are Adia Kuznetzoff, Rolla Courvitch, Will Stanton, Robert Warwick, Pedro de Cordoba, Edward Keane, Tom Wilson, John Harmon, Richard Bond, Earl Gunn, Sidney Bracey, George Lloyd, Charles Richman, Stuart Holmes, Leonard Mudie, Egon Brecher, Frank Reicher, Dick Botelier, Al Bridge, Frank Hagney, Harry Cording, Davison Clark, Dick Rich, Stanley King, Cliff Saum, Paul Panzer, and Walter Soderling.
Lawrence Grant (First Official), Jack Mower (Sergeant), John J Richardson, Jack Wise (Convict) and Theodore von Eltz (Second Official) do not appear in the finished print.
© Derek Winnert 2017 Classic Movie Review 5629
Check out more reviews on http://derekwinnert.com