Deuce Bigalow: European Gigolo * (2005, Rob Schneider, Eddie Griffin, Jeroen Krabbé, Til Schweiger) – Classic Movie Review 1968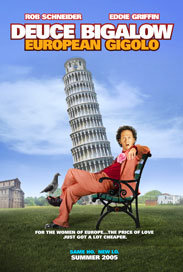 Deuce Bigalow: European Gigolo, the dodgy and pathetic 2005 sequel to Rob Schneider's excellently silly 1999 bad-taste farce Deuce Bigalow: Male Gigolo, is probably best avoided. This one is unfortunately unfunny as well as vulgar and tasteless, as intended, though, happily, it is short at 82 minutes. It is the only film so far by director Mike Bigelow.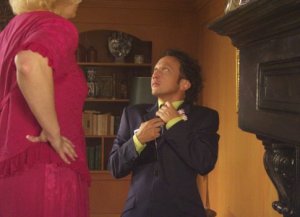 Schneider stars again as Deuce is tricked again into being a male gigolo (or 'man-whore') by his old friend TJ Hicks (Eddie Griffin), this time in Amsterdam where a mysterious serial killer is murdering the other gigolos around him. When TJ is mistaken for the extremely gay murderer, Deuce must find the real murderer and clear TJ's name.
Jeroen Krabbé (as Gaspar Voorsboch) and Til Schweiger (as Heinz Hummer) also star and Oded Fehr also returns from the original, as Antoine Laconte.
Obviously, pervasive strong crude and sexual humour, language, nudity and drug content are on the menu. Distributors Disney wanted a PG-13 sequel while Schneider and producer Adam Sandler wanted it to be R-rated like the original, so they moved to Sony.
The word 'man-whore' or its variations 'man-whoring' and 'man-whores' is said 47 times in the movie.
Schneider took out full-page ads boasting that the film was nominated for five Golden Raspberry (Razzie) Awards: Worst Picture, Worst Actor (Schneider), Worst Remake or Sequel, Worst Screenplay and Worst Screen Couple (Schneider and his nappy). Schneider went on to win the Worst Actor Razzie award.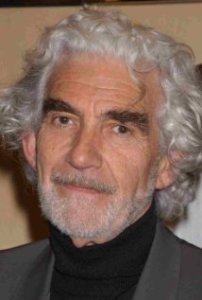 London-born Charles Keating, the veteran soap opera actor who plays Gian-Carlo, died on August 8 2014 at the age of 72 after a long battle with cancer.
© Derek Winnert 2014 Classic Movie Review 1968
Check out more reviews on http://derekwinnert.com/