Deception * (2008, Hugh Jackman, Ewan McGregor, Michelle Williams, Bruce Altman, Andrew Ginsburg) – Classic Movie Review 4341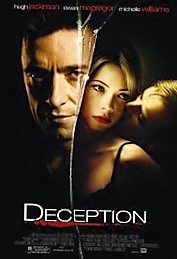 Nerdy New York accountant Jonathan McQuarry (Ewan McGregor) meets slick lawyer Wyatt Bose (Hugh Jackman), who draws him an into the twilight world of an elite Manhattan dating club, where high fliers meet for no-strings sex in swanky hotel rooms. Naturally, money is involved – it's a heist/ blackmail thriller.
With its eager over-acting, flashily grungy visuals and silly story complete with clunkingly obvious twist ending, director Marcel Langenegger's 2008 mystery crime drama is a fascinatingly dreadful erotic thriller that wastes the time of its first-rate stars – and the viewer.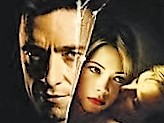 A compulsive lesson in how not to make a movie, Deception even looks bad.
The writer is Mark Bomback, also known for Live Free or Die Hard (2007), Dawn of the Planet of the Apes (2014) and The Wolverine (2013).
© Derek Winnert 2016 Classic Movie Review 4341
Check out more reviews on http://derekwinnert.com