Death Wish 4: The Crackdown ½ (1987, Charles Bronson, Kay Lenz, John P Ryan, Perry Lopez, Soon-Tek Oh) – Classic Movie Review 5051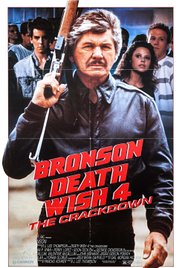 Director J Lee Thompson's tawdry and disreputable 1987 action thriller is the third sequel to Death Wish (1974). It once again stars Charles Bronson, at the age of 66 still playing wrinkled part-time vigilante, architect Paul Kersey. Somehow it is easier to believe in Bronson as a vigilante rather than an architect.
Of course architect Kersey is still at the vigilante game, otherwise there would be no film, and this time his target is a vicious drugs gang who killed his girlfriend's daughter through a drugs overdose. And he takes on the members of the cartel to stop the flow of drugs, methodically eliminating gang members by playing two gangs off against each other, Yojimbo-style. I know what you are saying, vigilantism is a crime, even in America, so why is Kersey not in jail? Again, if he was, there would be no film.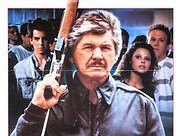 Michael Winner having wisely chucked in the towel (he filmed Appointment with Death instead), there is a new director this time in Bronson's other long-time collaborator J Lee Thompson, and a new location (switching from New York to Los Angeles).
But, otherwise, everything else is the same – the producers (Cannon), the violence, the vigilantism, the exploitation and, of course, the cynicism.
Also in the quality cast are Kay Lenz, John P Ryan, Perry Lopez, Soon-Tek Oh, George Dickerson, Dana Barron, Jesse Dabson, Peter Sherayko, James Purcell, Michael Russo, Danny Trejo, Mike Moroff and Mark Pellegrino.
Fairly weak on cinema release (US gross $6,880,000), it made its money on home video in 1988.
The scene where Kersey goes to the cinema was filmed at the Cannon Group's viewing theatre.
Gail Morgan Hickman re-wrote the entire script while filming. He responded to the fact that the Cannon producers Menahem Golan and Yoram Globus 'wanted a mindless movie with non-stop action' by creating 'cartoonish' action scenes. The other producer is Pancho Kohner, son of Paul Kohner, Bronson's agent.
Bronson is the whole movie – his salary was $4 million of the $5 million budget.
Bronson and Thompson worked together nine times, also  St. Ives (1976), The White Buffalo (1977), Cabo Blanco (1980), 10 to Midnight (1983), The Evil That Men Do (1984), Murphy's Law (1986),  Messenger of Death (1988) and Kinjite: Forbidden Subjects (1989).
Kersey lives at 8200 Wilshire Boulevard in western Los Angeles.
The final episode, Death Wish V: The Face of Death, followed in 1994.
© Derek Winnert 2017 Classic Movie Review 5051
Check out more reviews on http://derekwinnert.com