Deadly Advice ** (1994, Jane Horrocks, Brenda Fricker, Imelda Staunton, Jonathan Pryce) – Classic Movie Review 3959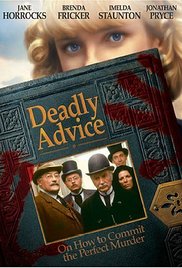 Director Mandie Fletcher's 1994 British black comedy is a sometimes funny but often uneasy experience, though it comes through with an excellent cast on good form.
Jane Horrocks and Imelda Staunton give expert and amusingly oddball performances as sisters Jodie and Beth who are dominated by the mother-from-hell, Iris (Brenda Fricker), who tries to stop their fun with, respectively, the local doctor Ted Philips (Jonathan Pryce) and a male stripper called Bunny (Ian Abbey).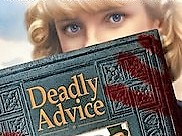 Horrocks's Jodie finds a book on great British murderers and they all appear to her to offer deadly advice, which, of course, she soon takes. A cast of 1994 vintage Equity's finest (John Mills as Jack the Ripper, Edward Woodward as Major Herbert Armstrong, Billie Whitelaw as Kate Webster, Hywel Bennett as Dr Crippen, Jonathan Hyde as George Joseph Smith) appear to advantage as the famous killers of history, constantly arguing about the best advice for Jodie. However, this bold and intriguing fantasy idea is more disturbingly macabre than actually humorous.
Both Fletcher's direction and Glenn Chandler's screenplay, though inventive and clever, lack polish and real wit. But, along with the performances, there are enough entertaining scenes to keep it watchable and the unusual Hay-on-Wye setting, eye-catchingly photographed by Richard Greatrex, is an asset. Eleanor Bron plays the judge.
After a very long gap, Fletcher's next film is Absolutely Fabulous: The Movie (2016).
© Derek Winnert 2016 Classic Movie Review 3959
Check out more reviews on http://derekwinnert.com