Dead Men Walk *** (1943, George Zucco, Mary Carlisle, Dwight Frye, Nedrick Young) – Classic Movie Review 6132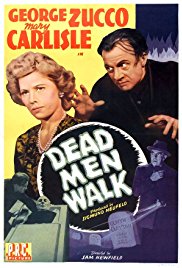 Ah, a dead man returns for vengeance, excellent! George Zucco is on good form and is great fun in two roles as the vampire Elwyn Clayton, who comes back to life to kill his doctor twin, Dr Lloyd Clayton, in director Sam Newfield's gleeful if tatty 1943 chiller.
Zucco's undead character Elwyn is abetted by a hunchback called Zolarr, played by Dwight Frye, who died the following year. When Zolarr accuses the kindly Lloyd of killing Elwyn, he says it was in self defense, as the evil twin was serving Satan. Lloyd's niece Gayle (Mary Carlisle) and her fiancé Harper (Robert Strange) are on the case.
Telling an amusing vampire version of Dr Jekyll and Mr Hyde, PRC's horror filler movie is both very cheap and very cheerful, and very fast, filmed in just six days.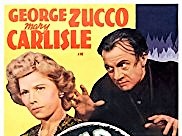 Also in the cast are Nedrick Young, Fern Emmett, Sam Flint, Hal Price and Jimmy Aubrey.
It is written by Fred Myton, shot in black and white by Jack Greenhalgh, produced by Sigmund Neufeld and scored by Leo Erdody.
The evil twin's crypt was Zucco's estate in his earlier PRC film, The Mad Monster (1942).
After a 20-year career, it is the last movie of Mary Carlisle, who retired from films after her marriage to flying supervisor James Blakeley the previous year. Mary Carlisle turned 103 on 3 February 2017.
© Derek Winnert 2017 Classic Movie Review 6132
Check out more reviews on http://derekwinnert.com