Dawn of the Planet of the Apes *** (2014, Andy Serkis, Jason Clarke, Gary Oldman, Keri Russell, Kodi Smit-McPhee) – Movie Review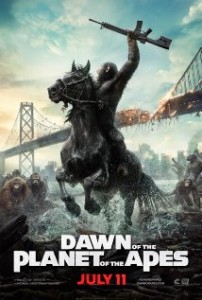 It's 2026 and human civilisation has collapsed. A band of human survivors genetically immune to the devastating virus unleashed a decade earlier is living in a guarded tower within the ruined city of San Francisco. In their search for water and power, they enter the Muir Woods and threaten a new generation of genetically evolved apes led by the wise Caesar.
In a panic, one of the humans shoots and wounds an ape. Caesar orders the humans to leave and later brings the apes to the city, where he orders the humans never to enter ape territory again. Human and ape reach a fragile peace, but it proves short-lived, as both sides edge to the brink of a war to decide who will emerge as Earth's dominant species.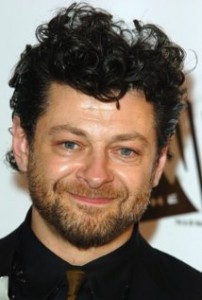 Andy Serkis stars as Caesar, but there's no way of telling that it's him, it could be anybody, or simply a CGI image. And obviously, under the circumstances, a performance is impossible. That leaves Aussie actor Jason Clarke as the hero, Malcolm, but he doesn't look right as he's not cast in the heroic image and he gives a dour, downbeat performance, where upbeat and exciting would be good.
The same is true of the film. It's dour and downbeat, where upbeat and exciting would be good. And, with a plot that could be written on the back of a small envelope, this is a rather dull movie. Well, it looks like they must have run out of fresh Apes stories. There is suspense and there is action, but not really enough of either, and the volume of both these elements need a lot of pumping up.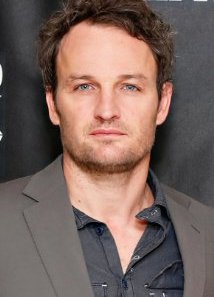 It's a highly efficient money-maker, slick and relentless and faultless technically. But it has no heart or soul, no light and shade. It's all black and white with no grey, and naturally no warmth or humour. Those of us looking to fantasy films for fun pretty much may as well give up on summer blockbusters. Serious is good, but not all the time.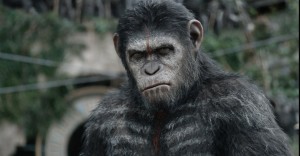 The original 1968 Planet of the Apes has something to be serious about. This is just a weedy little filler of a story, somewhere between Rise of the Planet of the Apes and whatever the new film will be. It feels like a committee-written TV pilot episode, or the prelude to a movie, with the main exciting part still to come. Though directed by quirky film-maker Matt Reeves, it has no individuality or personality. As a fantasy thriller, it lacks urgency and it never really seems to get cracking. With so many Apes films already – seven of them – you need something really special to keep the franchise fresh and they haven't found it.
With Serkis' Caesar and Clarke's Malcolm the good guys on each side, the bad guys are lined up with Toby Kebbell's scarred bonobo Koba, who holds a grudge against humans for his mistreatment, against Kirk Acevedo's Carver and Gary Oldman's survivalist leader Dreyfus. That's very neat and simple, but these are cyphers not characters, giving good actors a lot of trouble.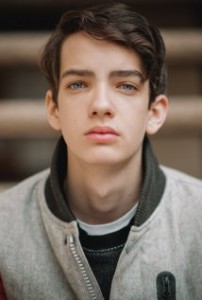 Token woman Keri Russell and token young person Kodi Smit-McPhee (reunited with director Reeves after Let Me In) have even more problems, as they really have nothing to do, except be there and look vaguely worried or slightly concerned. It's extraordinary that the boy doesn't even get a token love interest.
Dawn of the Planet of the Apes magnifies all the faults of Transformers 4 – dumping the series' previous performers, motoring on a thin, tiny story, cardboard characters, CGI everywhere, relentless seriousness of tone, pointless 3D, weak and dreary dialogue and no great thought or intelligence up there on screen.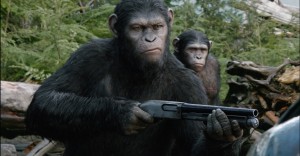 Nevertheless, when the film was released in the United States on July 11 2014 it received highly positive reviews, with American critics praising its special effects, story, direction and acting. And it took a fortune on its opening weekend. In any case, who wants to engage brain in a barmy July?  It's a must-see for all the millions of Apes fans. After all, part nine, director Reeves's already announced 2016 Untitled Planet of the Apes Sequel, will be meaningless without seeing it.
Matt Reeves got his start with the quirky 1996 little gem The Pallbearer.
http://derekwinnert.com/planet-of-the-apes-1968-charlton-heston-roddy-mcdowall-kim-hunter-classic-movie-review-1424/
http://derekwinnert.com/planet-of-the-apes-2000-mark-wahlberg-tim-roth-helena-bonham-carter/
http://derekwinnert.com/the-pallbearer-1996-david-schwimmer-gwyneth-paltrow-classic-film-review-1170/
© Derek Winnert 2014 Movie Review
Check out more reviews on http://derekwinnert.com/