Dawn of the Dead *** (2004, Sarah Polley, Ving Rhames, Jake Weber, Mekhi Phifer, Kevin Zegers, Ty Burrell, Michael Kelly, Lindy Booth) – Classic Movie Review 1466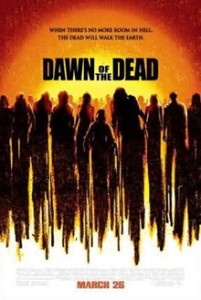 In his tense and exciting 2004 feature film debut, director Zack Snyder remakes George A. Romero's 1978 zombie classic Dawn of the Dead as a horror action movie, working from a workmanlike screenplay by James Gunn, co-writer/director of Guardians of the Galaxy (2014).
Sarah Polley as nurse Ana, Ving Rhames as Police Sergeant Kenneth Hall, Jake Weber as jack-of-all-trades Michael and Mekhi Phifer as petty criminal Andre are the most famous names among the cast playing a handful of human survivors living in a Milwaukee, Wisconsin shopping mall that is surrounded by swarms of zombies, who this time are scarily fast and agile.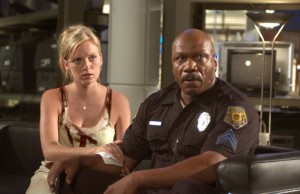 Kevin Zegers as Terry, Ty Burrell as Steve, Michael Kelly as C.J. and Lindy Booth as Nicole are also among the cast. The movie includes cameos by original cast members Ken Foree, Scott Reiniger and Tom Savini.
After Gunn left the film to concentrate on Scooby-Doo 2: Monsters Unleashed, Michael Tolkin and Scott Frank were brought in for rewrites,  further developing the characters and provided some bigger and more upbeat action sequences.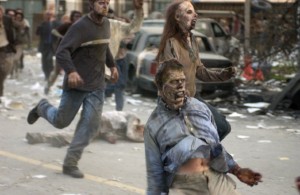 The mall scenes and rooftop scenes were shot in the Thornhill Square Shopping Centre in Thornhill, Ontario, and the other scenes were shot in the town's Aileen-Willowbrook neighbourhood.
The first half of the film was shot mostly in chronological order, while the final scenes on the boat and island were shot much later at Universal Studios, Hollywood, after preview audiences disliked the original sudden ending.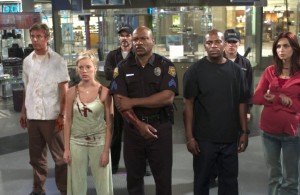 It did well to be one of the few zombie movies to take over $100million at the international box office, but even so the planned sequel was cancelled.
It runs 101 minutes, with the Unrated Director's Cut DVD edition at 
Zegers and Booth also star together in Wrong Turn (2003).
© Derek Winnert 2014 Classic Movie Review 1466
Check out more reviews on http://derekwinnert.com/