Dangerous Minds **** (1995, Michelle Pfeiffer, George Dzundza, Courtney B Vance) – Classic Movie Review 5014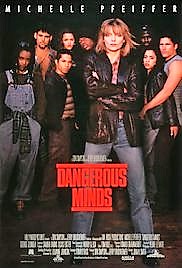 Director John N Smith's 1995 school drama provides Michelle Pfeiffer with one of her best, most popular and memorable roles and one of her biggest hits.
Pfeiffer gives a polished and dedicated performance as ex-Marine LouAnne Johnson, who is hired to teach English to almost unteachable, rebellious remedial students in this stirring true-story biographical drama.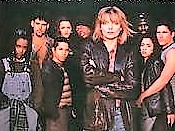 The staff at Parkmont High call Pfeiffer's students the 'rejects from hell'. So, before she can teach them, she has to show them her karate skills, bribe them with everything from sweets to posh dinners, and then introduce them to Dylan Thomas via Bob Dylan!
Some of the details do not ring quite true, but the acting and general air of sincerity win top marks, and the movie is scripted by Ronald Bass with a great deal of intelligence and is made with considerable flair by director Smith.
Also in the cast are George Dzundza, Courtney B Vance, Robin Bartlett, Beatrice Windle, John Neville, Lorraine Toussaint, Renoly Santiago, Wade Diminguez and Richard Grant.
Andy Garcia's star part was entirely cut out of the movie.
It is parodied in High School High (1997).
© Derek Winnert 2017 Classic Movie Review 5014
Check out more reviews on http://derekwinnert.com