Dances with Wolves ***** (1990, Kevin Costner, Mary McDonnell, Graham Greene) – Classic Movie Review 2056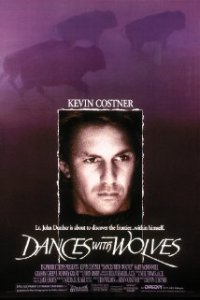 Co-producer-director-star Kevin Costner comes up with a truly majestic epic Western in 1990 and wins seven Oscars, including Best Picture, Best Director and Best Adapted Screenplay. Grown men have been known to weep at this magnificent movie.
It is a triumph for its star and début director Costner, who plays an army officer Lieutenant John Dunbar, who is exiled to a remote western Civil War outpost, where he lives among a curious Sioux tribe and proves an unusual and inconvenient soldier to the military as he befriends wolves and Native Americans. He meets a wolf he calls Two-socks, gradually earns the respect of the Native Americans, and sheds his white man's ways.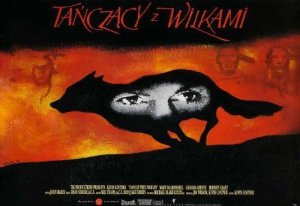 Costner carefully, painstakingly re-assembles all the classic Western ingredients and makes them fresh again. They include a riveting story (in Michael Blake's distinguished screenplay from his own novel) some bloody fighting, a magnificently filmed buffalo hunt, a touching love story, Native Americans on the warpath, a classic score (by John Barry) and those vast, wide-open spaces, beautifully filmed by cinematographer Dean Semler.
Oscar nominated as Best Actor, Costner is excellent, at the heart of the movie's success, and, though he failed to win an Oscar, he did win the Golden Globe as Best Actor. Mary McDonnell co-stars in another Oscar nominated role as Stands With A Fist, a white woman who was raised by the Indians ('My place is with you. I go where you go').
Oscar-nominated Graham Greene plays Kicking Bird, the adoptive father of Stands With A Fist and Tantoo Cardinal plays the adoptive mother. Also in the cast are Rodney A Grant, Floyd Red Crow Westerman, Robert Pastorelli, Charles Rocket, Maury Chaykin, Jimmy Herman and Wes Studi.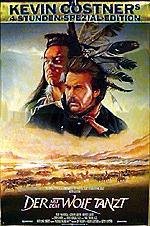 The film won seven Oscars, namely Best Picture (producers Jim Wilson and Kevin Costner), Best Director (Kevin Costner), Best Adapted Screenplay (Michael Blake), Best Score (John Barry), Best Cinematography (Dean Semler), Best Film Editing (Neil Travis) and Best Sound (Russell Williams II, Jeffrey Perkins, Bill W. Benton, Gregory H Watkins). Astoundingly, there were no Bafta awards for this outstanding, British financially-supported movie. Costner had to spend his own money to help the film's $18 million budget, but when it grossed over $100 million, he earned an estimated $40 million.
It runs 182 minutes, which properly befits its epic status, though the studio wanted the final cut to be a meagre two hours and 20 minutes. A year after the cinema release, a four-hour version opened at selected London cinemas. Called Dances with Wolves: The Special Edition, this much longer cut was restored nearly an hour of scenes removed to keep the original film's running time around three hours. For the DVD release, the Special Edition was named the Extended Cut and for Blu-ray the same cut was renamed Director's Cut.
irector's Cut version at 236 minutes  the Extended Version at , both of which greatly expand the scope of the yarn and characters, are equally satisfying, though some think their extreme length makes them too much of a good thing.
Costner did all his own riding, including bare back and shooting his gun without holding the reins, during the buffalo hunt, which had a herd of 3,500 animals, the largest in America. Costner's daughter Annie plays Stands With A Fist as a child.
Michael Blake wrote it as a spec screenplay, which went unsold in the mid-1980s. Costner, who had starred in Blake's Stacy's Knights (1983), encouraged him in 1986 to turn it into a novel to improve its chances of being filmed. After many rejections, it was finally published in paperback in 1988. Costner then bought the film rights to the novel with an eye on directing it.
The Holy Road, Blake's well-received sequel novel was published in 2001.
Costner's epic Western was shot on location in South Dakota between July and November 1989 after he scouted locations in nine states from Canada to Mexico. Dakota's access to numerous Native American communities for hundreds of bit-players as well as large herds of buffalo and horses required determined the locations for filming.
The buffalo that play such an extraordinary role in the legacy of the West, as well as in the film, have been driven to near extinction. But research found that the world's largest privately-owned herd, 3,500 strong, existed on Roy Houck's 55,000-acre Triple-U ranch, which was hired for the buffalo sequences, but proved so amenable that almost half the film was eventually shot there.
Lorries and helicopters were brought in to herd and pace thousands of buffalo for the giant stampede scenes, which proved the film's main highlight. Trained animals were brought in to handle some of the unusual effects, with several domesticated buffalo, including two owned by rock singer Neil Young, which were lent to the production.
Young's huge but docile animal Mammoth was safely rigged with a strap to look as if a spear went through him, while lookalikes built from sculpted wire and fur coverings were used to portray the animals falling and being trampled by their oncoming herd.
© Derek Winnert 2015 Classic Movie Review 2056
Check out more reviews on http://derekwinnert.com/