D.O.A. *** (1988, Dennis Quaid, Meg Ryan, Charlotte Rampling, Daniel Stern) – Classic Movie Review 6676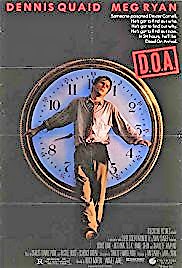 The 1950 cult classic film noir crime thriller D.O.A. was remade in Australia in 1969 as Color Me Dead, directed by Eddie Davis, before this 1988 D.O.A. remake, directed Annabel Jankel and Rocky Morton and starring Dennis Quaid and Meg Ryan. It is a satisfying and stylish loose remake of the 1950 cult thriller from the directors who created the TV show Max Headroom.
Dennis Quaid stars as Dexter 'Dex' Cornell, an English professor teaching at a Texas University, who is given a slow-acting but fatal poison after a row over a manuscript. He has got to find out who did it and why in the next 24 hours or he will be Dead On Arrival. Meg Ryan plays Sydney Fuller, one of his students, who tries to help him find out whodunit before he dies.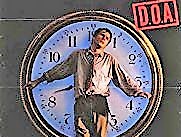 D.O.A. is dark, Gothic, noir and snazzy, with two solid central performances and a teasing screenplay by Charles Edward Pogue that is full of dead ends, odd corners and blind alleys, just as it should be. It is imaginatively shot in black & white and colour by cinematographer Yuri Neyman. Probably there will be plenty to annoy fans of the original and plenty to please Eighties rock-video admirers and old movie buffs, as it is now a retro item of its own era. It is very Eighties, just as the original was very Fifties.
Also in the cast are Charlotte Rampling as Mrs Fitzwaring, Daniel Stern, Jane Kaczmarek, Christopher Neame, Robin Johnson, Robert Knepper, Brion James, Elizabeth Arlen and Jay Patterson.
D.O.A. runs 98 minutes, is produced by Ian Sander and Laura Ziskin, and scored by Chaz Jankel. The much altered screenplay and story by Charles Edward Pogue are based on the 1950 original by Russell Rouse and Clarence Greene.
In March 2018 comes director Stephen C. Sepher's new thriller Dead on Arrival, inspired by the 1950 D.O.A. and starring Emmy nominee Billy Flynn.
In 2018 Annabel Jankel is directing an adaptation of Fiona Shaw's 2009 novel Tell it to the Bees starring Anna Paquin and Holliday Grainger.
© Derek Winnert 2018 Classic Movie Review 6676
Check out more reviews on http://derekwinnert.com