Cyborg ** (1989, Jean-Claude Van Damme, Deborah Richter, Vincent Klyn, Alex Daniels, Dayle Haddon) – Classic Movie Review 5932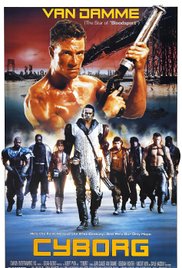 The young Jean-Claude Van Damme at the height of his burgeoning arts hunk career plays a slinger (guide) called Gibson Rickenbacker who meets a woman called Pearl Prophet (Dayle Haddon) who reveals she is a cyborg (computerised android) and helps her to battle bloodthirsty pirates to bring back a cure for a deadly plague. Fender Tremolo (Vincent Klyn) and his murderous gang want the cure for themselves and kidnap Pearl.
Van Damme gives an impressive, disreputably entertaining display of martial arts prowess, killing off several bad guys with his bare hands, and the wasteland settings with burning trash cans are convincingly apocalyptic, in writer-director Albert Pyun's tremendously tacky, low-budget ($500,000) 1989 futuristic fantasy from Cannon Films.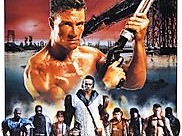 The result is not exactly great but it is quite busy, fast, entertaining and short (at only 85 minutes) so it should keep sci-fi and Van Damme fans pretty happy anyway.
Also in the cast are Deborah Richter, Alex Daniels, Ralf Moeller [Rolf Muller], Jackson Pinckney, Blaise Loong, Haley Peterson, Terrie Batson and Janice Graser.
It is written by Albert Pyun [credited as Kitty Chalmers], shot by Philip Alan Waters, produced by Yoram Globus and Menahem Golan, scored by Kevin Bassinson and designed by Douglas Leonard.
Pyun wrote the film to use sets and costumes for his cancelled sequel to Masters of the Universe (1987) and his cancelled Spider-Man, planned to be shot back-to-back for financially troubled Cannon. It did well, grossing more than $10 million in the US and was a nice little earner on video.
A sequel followed: Cyborg: Glass Shadow (1993) with Elias Koteas, Anjelina Jolie and Jack Palance.
© Derek Winnert 2017 Classic Movie Review 5932
Check out more reviews on http://derekwinnert.com