Cry-Baby **** (1990, Johnny Depp, Ricki Lake, Amy Locane) – Classic Movie Review 2095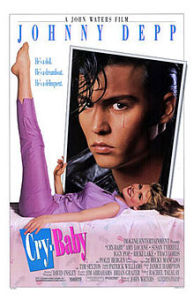 Writer-director John Waters's infectiously campy 1990 spoof teen musical romantic comedy stars the young and sexily cute Johnny Depp, who was 26 but looks about 16.
Depp radiates star quality as the tough teen rebel of the title, 'Cry-Baby' Wade Walker, who falls for rich square chick Allison Vernon-Williams (Amy Locane) in 1950s Baltimore.
'Cry-Baby' is one of a group of teenage delinquents who call themselves 'drapes' (greasers) and Allison, naturally, is a 'square' from the town's rival subculture. A bad boy with a heart of gold, Cry-Baby wins good girl's Allison's heart when she decides she wants to be bad. But, with the duo breaking their subculture taboos, Allison's boyfriend then sets out for revenge.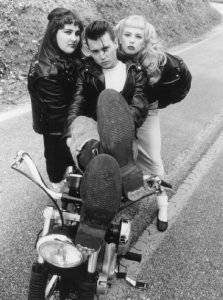 Waters's movie is a brilliantly bright and breezy parody of 50s musicals, Elvis movies and juvenile delinquency films, accessing Rebel Without a Cause and West Side Story. The large ensemble camp cast has a ball, and the gags, 50s period-style songs and dance numbers are tip-top. Willem Dafoe guest stars as the hateful reformatory guard for a hilarious sequence that is a loving parody of Elvis Presley's Jailhouse Rock.
Also in the cast are Susan Tyrrell as Ramona Rickettes, Polly Bergen as Mrs Vernon-Williams, Iggy Pop as Belvedere Rickettes, Ricki Lake as Pepper Walker, Traci Lords as Wanda Woodward, Darren E. Burrows as Milton Hackett and Kim McGuire as Mona 'Hatchet-Face' Malnorowski.
And there are special appearances by Troy Donahue and Mink Stole as Mr and Mrs Malnorowski, Hatchet-Face's parents who sell cigarettes to high school students, Joe Dallesandro and Joey Heatherton as Mr and Mrs Hackett, Milton's overzealous, religious parents, and David Nelson and Patricia Hearst as Mr and Mrs Woodward, Wanda's happy-go-lucky parents.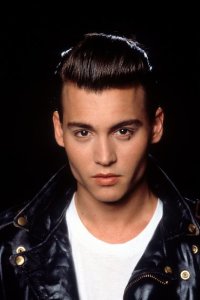 Though it is arguably even better than Waters's biggest success Hairspray, it alas proved not quite as popular. The film didn't do all that well at the box-office, grossing only $8 million by the end of its theatrical run, making it a box office flop on its $12 million budget.
But it has subsequently become a cult classic and spawned a 2008 Broadway musical of the same name, which was nominated for four Tony Awards. Also it helped to boost Depp's movie career and is easily one of Waters's best and certainly most polished films.
Waters bought $30 of teen magazines to pick an actor for Cry-Baby, all of which showed Johnny Depp of TV's 21 Jump Street on the cover. Depp thought the script was funny and offbeat, just right to help stop him being typecast as a TV teen idol.
Filming took place in Maryland at the now-closed Enchanted Forest amusement park in Ellicott City and in the historic towns of Reisterstown, Jessup, Milford Mill and Sykesville.
The 91-minute director's cut adds six minutes to the original 85-minute release. The USA Network TV screening includes a few more additional scenes.
In February 2013 Amy Locane was sentenced to three years for a 2010 drunk driving accident that took the life of another woman.
© Derek Winnert 2015 Classic Movie Review 2095
Check out more reviews on http://derekwinnert.com/