Crossplot ** (1969, Roger Moore, Martha Hyer, Alexis Kanner, Claudie Lange, Francis Matthews, Bernard Lee) – Classic Movie Review 6016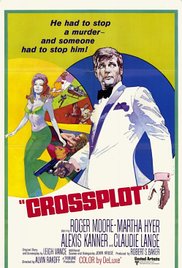 Director Alvin Rakoff's moderate and routine 1969 British movie is a traditional, mechanical spy thriller starring Roger Moore as Gary Fenn, a successful London ad executive who hires a young Hungarian woman to pose for modelling shots. But she has overheard an assassination plot and is being hunted by killers.
Now Gary Fenn is trying to solve a crossword puzzle clue to stop anarchists killing a visiting statesman in London at his birthday party.
It could have been a script for Moore's TV show The Saint, an impression enhanced by the familiar British faces and sharing the TV series's same producer, Robert S Baker.
It is distracting, diverting and busy enough to pass the time, with colourful Swinging Sixties happenings like a psychedelic disco and a helicopter chase. But the screenplay by Leigh Vance and John Kruse seems to be all computer programmed, especially their jokes. If you watch it at Christmas, you will no doubt notice the same jokes in your cracker. However, Moore is suave, smooth and likeable, as always, and that familiar British supporting cast helps too.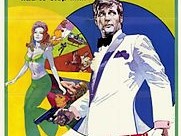 Also in the cast are Martha Hyer, Alexis Kanner, Claudie Lange, Francis Matthews, Bernard Lee, Derek Francis, Ursula Howells, Dudley Sutton, Veronica Carlson, Tim Preece, Mona Bruce, Norman Eshley, Michael Culver, Gabrielle Drake and John Lee.
It is Moore's first top-billed cinema starring role.
Bernard Lee was of course M in Moore's Bond movies – eg The Spy Who Loved Me.
Kanner and Drake both star in Connecting Rooms.
© Derek Winnert 2017 Classic Movie Review 6016
Check out more reviews on http://derekwinnert.com